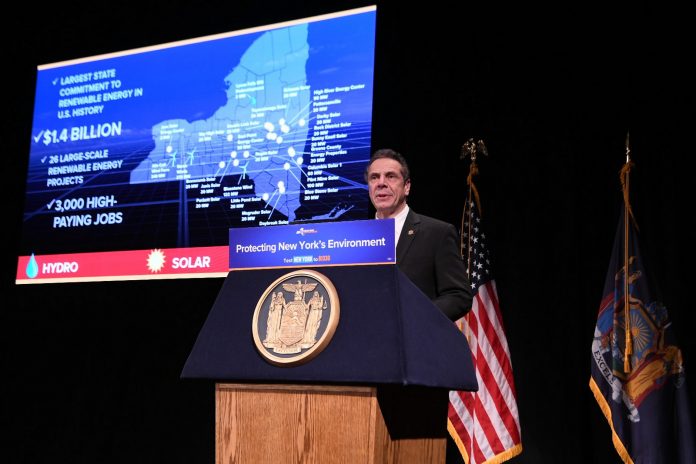 Governor Andrew Cuomo announced that he formally requested the federal government to exclude New York from its offshore drilling program.
In January, the Department of Interior released its plan to expand offshore oil and gas drilling in almost all U.S. coastlines. Gov. Cuomo immediately expressed strong opposition to the plan. He said it is "an unacceptable threat" to the economy and ocean resources of New York.
The state stands to lose nearly 320,000 jobs and billions of dollars generated from tourism and fishing industries if the federal government reject its request for exclusion. New York's ocean economy is the third-largest in the United States. It is generating $11 billion in wages and contributing $23 billion in gross domestic product.
The Department of Interior granted Florida's request for exemption because its economy depends heavily on tourism.
In a statement on Friday, Gov. Cuomo reiterated the state's strong opposition to the Department of Interior's National Outer Continental Shelf Oil and Gas Leasing Program.
In addition, the governor said offshore drilling "only increases the chances of another disaster taking place." He stressed that the federal government is totally disregarding history, reality, and science. It is also endangering New York's progressive efforts to move toward cleaner and smarter energy solutions.
Furthermore, Gov. Cuomo emphasized, "We believe the future is a clean energy economy. New York is going to lead a counter-movement to what this administration is doing to the environment and illuminate the path forward."
New York to invest $1.4 billion in large-scale renewable energy projects
Moreover, the governor revealed that New York is investing $1.4 billion on 26-large-scale renewable energy projects across the state.
The projects are expected to create 3,000 well-paying jobs and generate sufficient renewable energy to power more than 430,000 homes. It would also reduce carbon emissions by more than 1.6 million metric tons.
The investment is a significant step towards advancing Gov. Cuomo's Clean Energy Standard. That is obtaining 50% of New York's electricity from renewable energy by 2030.