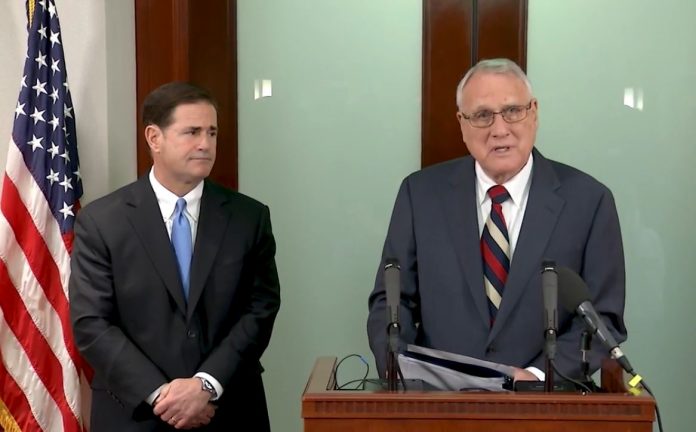 Arizona Republican Gov. Doug Ducey appointed former Sen. Jon Kyl to fill the seat vacated by the late Sen. John McCain.
Under state law, the governor is responsible for appointing McCain's replacement, who will serve until a special election in November 2020. The winner of that special election will serve through the remaining two years of McCain's term. In 2022, the seat will be up for election for a full six-year term.
On Tuesday, Ducey said Kyl agreed to accept the responsibility of representing Arizona in the U.S. Senate again.
"There is no one in Arizona more prepared to represent our state in the U.S. Senate than Jon Kyl," Ducey said. "He understands how the Senate functions, and will make an immediate and positive impact benefiting all Arizonans."
Sen. Jon Kyl Will Not Seek the Seat in 2020 Special Election
In addition, the governor stated that Kyl made a commitment to "serve through at least this session of Congress." Ducey is hoping the "senator will consider serving longer."
Meanwhile, Kyl said, "We are all saddened by the circumstances that required this appointment and appreciate there was only one John McCain. John and I served the people of Arizona for nearly two decades, and in that spirit, along with Sen. Flake, I will do my best to ensure Arizonans are well represented in the Senate.
"There is much unfinished business, including confirmation of President Trump's nominees for judicial and executive branch positions, and I look forward to getting to work on behalf of my fellow Arizonans."
Furthermore, Kyl said he will not run in the 2020 special election for the Senate seat or any other office in the future.
Kyl served for 18 years in the Senate, where he established a reputation as one of the most conservative lawmakers. He retired in 2012.
Cindy McCain, the wife of the late senator, said Kyl's appointment is a "tribute" to her husband.
She tweeted, "Jon Kyl is a dear friend of mine and John's. It's a great tribute to John that he is prepared to go back into public service to help the state of Arizona."