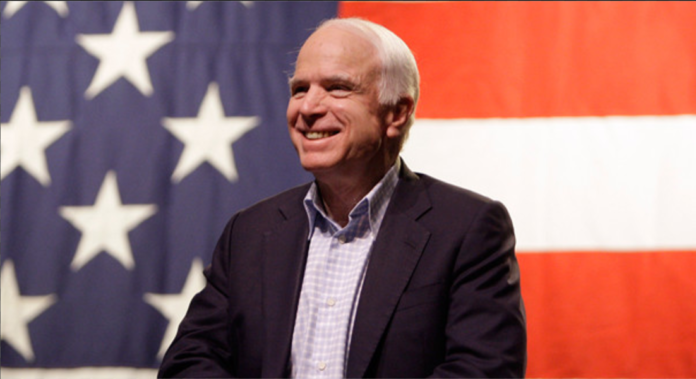 John McCain, a Vietnam war hero, maverick senator and former Republican presidential candidate, died at age 81 on Saturday.
The U.S. senator from Arizona died at 4:28 p.m. His wife, Cindy, and their family were with him when he passed away, according to his office.
McCain battled an aggressive form of brain cancer called glioblastoma for over a year. On Friday, the senator's family announced that he had made a decision to discontinue his medical treatment.
In a tweet Saturday, his TV commentator daughter, Meghan McCain, wrote, "I love you forever — my beloved father."
During his last few months, McCain posted a series of tweets and statements fighting for what he believed was right for the country.
He defended special counsel Robert Mueller and his investigation into Russian intereference of the 2016 U.S. presidential election. He condemned President Donald Trump's zero tolerance policy and "America first" ideology.
McCain criticized Trump's performance during his summit with Russian President Vladimir Putin in Helsinki. He called it "one of the most disgraceful performances by an American president in memory." He added that Trump's Helsinki summit with Putin was a "tragic mistake."
The senator also criticized Trump's summit with North Korean President Kim Jong Un. He said, "Making unnecessary and unreciprocated concessions is not in our interests — and it is a bad negotiating tactic."
McCain Committed His Life to Public Service
McCain faithfully served the United States for six decades. During his military service, he was awarded the Silver Star, the Bronze Star, the Legion of Merit, a Purple Heart and the Distinguished Flying Cross.
As a lawmaker, he committed his life to strengthening the country's national defense and supporting service members, veterans and military families. He promoted democracy and human rights around the world. He led bipartisan efforts to secure the border and improve the country's immigration system.
McCain made it a priority to protect American taxpayers. He exposed and fought to eliminate unnecessary expenditures, fraud and abuse in the federal government. He also championed campaign finance reform.
Furthermore, the senator helped expand native tribal sovereignty and supported Arizona's military community. He also led efforts to conserve, preserve and improve America's lands, waterways and national parks such as the Grand Canyon.
McCain is a "Patriot of the Highest Order"
On Saturday, former Presidents George W. Bush and Barack Obama paid tribute to the senator.
Bush wrote, "Some lives are so vivid, it is difficult to imagine them ended. Some voices are so vibrant, it is hard to think of them stilled. John McCain was a man of deep conviction and a patriot of the highest order."
Obama stated, "John McCain and I were members of different generations, came from completely different backgrounds and competed at the highest level of politics. But we shared, for all our differences, a fidelity to something higher — the ideals for which generations of Americans and immigrants alike have fought, marched and sacrificed."
McCain will be remembered as a political giant, an American hero who never stopped fighting for the best interests of his country.