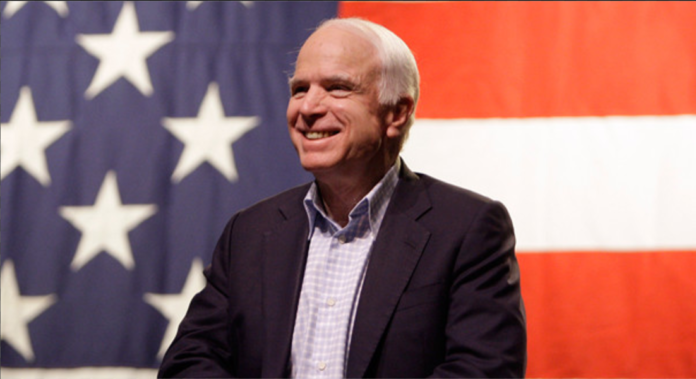 U.S. Sen. John McCain (R-Arizona) has been battling glioblastoma, an aggressive brain tumor, for more than a year. On Thursday, the senator decided to discontinue medical treatment, according to his family.
Last summer, McCain disclosed that he had been diagnosed with an aggressive brain cancer. He told Americans that his condition was "serious."
In a statement on Friday, his family wrote, "In the year since, John has surpassed expectations for his survival. But the progress of disease and the inexorable advance of age render their verdict. With his usual strength of will, he has now chosen to discontinue medical treatment.
"Our family is immensely grateful for the support and kindness of all his caregivers over the last year, and for the continuing outpouring of concern and affection from John's many friends and associates, and the many thousands of people who are keeping him in their prayers. God bless and thank you all."
Separately, the senator's wife, Cindy, tweeted, "I love my husband with all of my heart. God bless everyone who has cared for my husband along this journey."
His daughter Meghan also tweeted, "My family is deeply appreciative of all the love and generosity you have shown us during this past year. Thank you for all your continued support and prayers. We could not have made it this far without you — you've given us strength to carry on."
McCain is Known as the "Maverick" in the Senate
Throughout his career in the Senate, McCain has established a reputation as a "maverick." As a senator, he is not afraid to speak or vote against his party if he believes a policy is not in the best interest of the country.
Last year, McCain voted against the GOP's effort to repeal Obamacare. He maintained his position that a health care reform legislation must be a product of a regular order in the Senate. He believes that is the "only way to achieve a bipartisan consensus on lasting reform."
In March, he defended Special Counsel Robert Mueller amid speculations that President Donald Trump was preparing to fire him. He emphasized that Mueller served his country with honesty and integrity.
In June, McCain spoke against the Trump administration's zero-tolerance immigration policy, which separated immigrant families who crossed the border illegally. He called the policy an "insult to the decency of the American people." He called on Trump to rescind the policy.
In July, he criticized Trump's summit with Russian President Vladimir Putin. He called the meeting "one of the most disgraceful performances by an American president in memory."