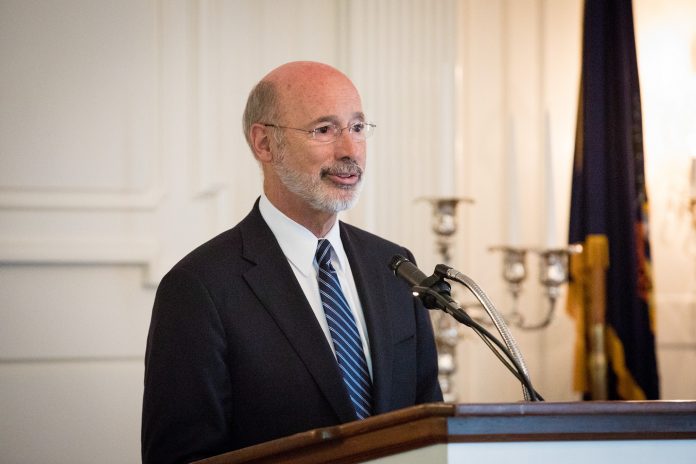 Governor Tom Wolf is requesting the Pennsylvania Legislature to authorize the state to participate in a regional initiative to reduce greenhouse gas emissions from power plants operating on fossil fuels.
According to the Associated Press, Gov. Wolf's action is part of his commitment to help combat climate change.
The Governor's office previously stated that it has a broad authority to implement policies to control air pollution such as carbon emissions. However, it also recognized the possibility that certain stakeholders could challenge its authority if it will unilaterally implement a cap on greenhouse gas emissions.
Gov. Wolf' administration will have additional legal protection to implement new regulations under its existing air pollution control authority if the Republican controlled Legislature authorizes it to join the Regional Greenhouse Gas Initiative (RGGI).
There are dozens of power plants fueled by coal or natural gas in Pennsylvania, emitting around 92 million tons of carbon dioxide per year. Therefore, it is the largest state with greenhouse gas emissions in the RGGI once it becomes part of the consortium, which had a cap of 80.2 million tons last year.
Currently, RGGI member states require fossil-fueled power plant owners to buy a credit for every run ton of carbon dioxide emitted. Pennsylvania will generate hundreds of millions of dollars selling credits.
Discussions regarding Pennsylvania joining RGGI is gaining momentum
A separate report from Reuters cited an analyst a Height Capital Markets in Washington stating Pennsylvania is gaining momentum in its effort to join the RGGI.
The analyst noted that Pennsylvania lawmakers have been working on legislation to subsidize the state's nine nuclear reactors to keep its operations. The nuclear power plants provide thousands of jobs to Pennsylvanians and generate power without emitting greenhouse gases.
FirstEnergy Solutions, one of the companies operating power plants in Pennsylvania said it could shut down its 2,490-megawatt (MW) Bruce Mansfield coal plant and 1,808-MW Beaver Valley nuclear plant in 2021. It continues the operations of the power plants if the state or the federal government provides more subsidies.
The company hasn't seen the details of the Governor's proposal for Pennsylvania to join the RGGI. It is looking forward to "remaining part of the discussion and greenhouse gas emission reduction solution."