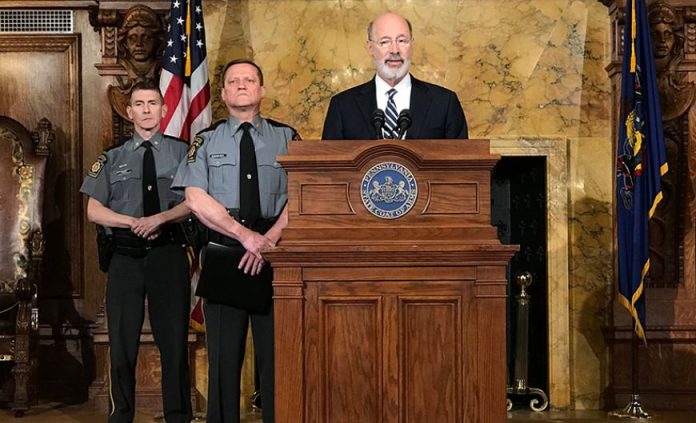 Pennsylvania Governor Tom Wolf slammed the state's House Judiciary Committee over its inaction on commonsense gun safety bills.
The public strongly supports legislation requiring universal background checks and extreme risk protection order that have been proven to save lives in other states.
On Tuesday, Gov. Wolf said, "I am extremely frustrated today that the House Judiciary Chairman pledged not to allow votes on any additional bipartisan commonsense gun safety priorities. As citizens across Pennsylvania demand gun safety action, the chairman is going in the opposite direction. These bipartisan bills, including universal background checks and extreme risk protection orders, have broad and significant public support."
In addition, the Governor emphasized that both legislation are real solutions to keep guns from dangerous individuals, reduce gun violence and increase public safety.
Gov. Wolf said, "We should be taking action to improve gun safety and reduce gun violence, not going in the opposite direction. Today's committee meeting was disheartening but I will continue to fight for safer communities."
Gov. Wolf will veto legislation that empowers NRA
Furthermore, Gov. Wolf said he will oppose any effort to dismantle or weaken state or local gun safety laws.
He promised to veto House Bill 1066, which allows out-of-state groups such as the National Rifle Association (NRA) to sue Pennsylvania municipalities over local gun safety ordinances. "I will veto this bill or any like it that reaches my desk," said Gov. Wolf.
The Governor is encouraging Pennsylvania House Judiciary Committee Chairman Rob Kauffman to reconsider his decision hindering votes on bipartisan gun safety bills.
Rep. Kauffman said on Tuesday, "We don't have any intention of addressing further gun control measures this session." He added that as long as he is the chairman of the Judiciary Committee, he will block the "red flag" bill because he has serious concerns regarding the fairness of its provisions on gun owners.