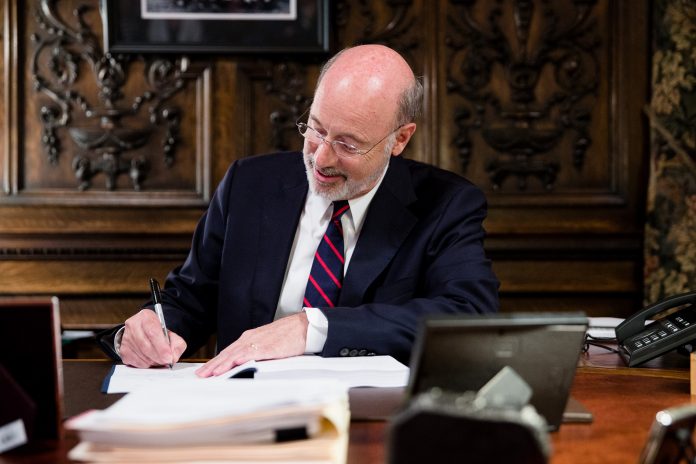 Pennsylvania Gov. Tom Wolf raised the minimum wage of state employees under his jurisdiction through an executive order last month.
State employees will see their paychecks increase starting this month. Under the governor's executive order, their minimum wage will increase from $10.20 to $12 per hour. The executive order also covers state contractors' employees who spend 20 percent or more of their time working on state projects.
Every year, their hourly salary will increase incrementally until it reaches $15 by 2024. Pennsylvania will base future increases on the Consumer Price Index.
Around 900 state employees and an undetermined number of state contractors will benefit from Gov. Wolf's executive order. The governor says that Pennsylvania "must be a place where hard work is rewarded."
A major step forward, a bold statement
Democratic State Sen. Christine Tartaglione praised Gov. Wolf for his action. She called it a "major step forward for state employees and contractors," and said that his executive order is a "bold statement that Pennsylvania cares about working families" and "recognizes the vital role that a vibrant middle class plays in a healthy and sustainable economy."
This is the second time Gov. Wolf has increased the salary of state workers. In 2016, he raised their minimum wage to $10.20 from $7.25 per hour.
Other state officials, such as the attorney general and the auditor general, were encouraged by Gov. Wolf's executive order. They implemented a similar action, although most employees in their department are already receiving higher wages.
Pennsylvania Auditor General Eugene DePasquale ordered $15 per hour pay for interns.
Pennsylvania Democrats introduced legislation to raise minimum wage
Last month, Gov. Wolf encouraged Republican lawmakers in the General Assembly to pass a bill to increase the state's minimum wage. Currently, the minimum wage in Pennsylvania is $7.25 per hour, lower than in surrounding states.
Last year, Democratic State Rep. Patty Kim introduced HB 1520 to raise the minimum wage to $12 per hour this year and then to $15 per hour by 2024.
Earlier this year, Sen. Tartaglione introduced SB 1044, a companion legislation to Rep. Kim's HB 1520.