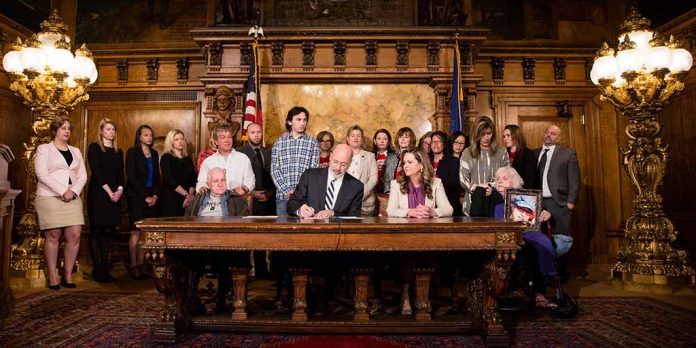 Pennsylvania Governor Tom Wolf signed into law Senate Bill 449, which strengthens the protections for victims of domestic violence on Monday.
The governor also encouraged the state House to pass a package of Senate domestic violence reform bills.
State Senator Camera Bartolotta is the sponsor of Senate Bill 449 also known as Tierne's Law. It was named after Tierne Ewing, a victim of domestic violence. In 2016, authorities arrested his estranged husband Kevin for domestic violence abuse. After his release from prison on $100,000 bail, Kevin murdered Tierne. She died of two gun shots—one in the body and one in the head.
In a statement, Gov. Wolf said, "We all know the tragic story that led us to take a hard look at our laws, and make this change. We mourn Tierne's loss with her family."
Additionally, the governor said they can never fix what her family had to go through. However, Tierne's law will "help prevent senseless and horrible situations" from happening again to more Pennsylvania families. The law "will hold perpetrators of domestic violence and abuse accountable for their heinous crimes."