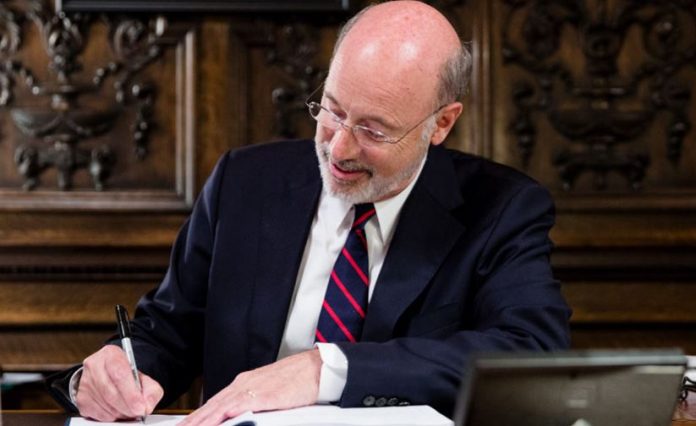 Pennsylvania Governor Tom Wolf signed into law a bill that strengthens the state's Public Employee Pension Forfeiture Act.
On Thursday, Wolf said SB 113 or Act 1 of 2019 will close the loophole in the state's pension forfeiture law. It will prevent public employees and officials convicted of job-related crimes from receiving a pension.
SB 113 expands that list of crimes that require pension forfeiture to include all felonies under Title 18 (Crimes and Offenses) of the Pennsylvania Consolidated Statutes.
The newly-enacted law requires courts to inform benefits administrators to immediately stop pension payments to public employees or officials who entered into a guilty or no contest plea.
Ethics reform in government
In a statement, Wolf said, "I commend the General Assembly for taking this first step towards greater ethics reform in state government. I look forward to continued progress in this area. It's frustrating when we know someone has committed a serious crime, but we still have to pay them a pension using taxpayer money. That's just not fair to honest, hardworking Pennsylvanians."
Additionally, the Governor said, "Closing this loophole is an important step in ensuring public officials and employees who betray the people of Pennsylvania are held accountable."
New Pennsylvania law ensures public servants who abuse power will face financial penalty
On the other hand, Pennsylvania State Senator John DiSanto, the primary sponsor of the bill said elected officials and employees are now "on notice that they will no longer be able to abuse their power and walk away with taxpayer-funded pension."
The lawmaker added that the legislation ensures that those who violate public trust will face financial penalty. It will also return people's faith in government institutions.
Meanwhile, Pennsylvania Treasurer Joe Torsella, commented that public servants who abuse people's trust don't deserve taxpayer-funded retirement benefits. He said, "As elected officials, it's our job to work in the public interest, not our own."