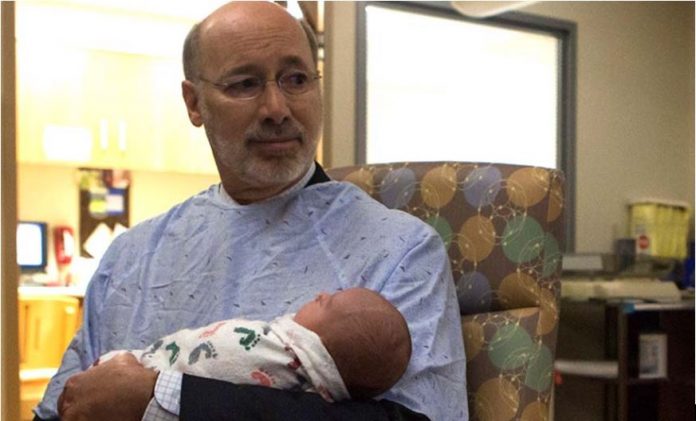 Pennsylvania Governor Tom Wolf supports a legislation that will help new moms struggling with postpartum depression (PPD).
On Wednesday, the governor praised lawmakers at the Pennsylvania House for passing House Bill 200. He encouraged the state Senate to pass the bill immediately.
Representatives Tarah Toohil and Mike Schlossberg introduced the legislation to ensure that infants and their mothers affected by PPD have access to services. They will be automatically eligible for assessment and tracking by the Early Intervention programs in Pennsylvania.
In a statement, Gov. Wolf said, "Supporting new moms is critically important to protect the health and well-being of Pennsylvania families. This bill is a smart step toward supporting moms after they give birth. Many women struggle with postpartum depression, which can impact their children and entire family.
"We must continue to work together to expand health care access in the Commonwealth, and it is my hope that this commonsense legislation gets to my desk as soon as possible," added the governor.
Pospartum depression can lead to child abuse and neglect
Representatives Toohil and Schlossberg noted a report from the American Academy of Pediatrics that PPD can lead to child abuse and neglect. It has a negative impact on a child's early brain development. PPD can also increase the cost of medical care for mothers and their infants.
Last month, Gov. Wolf signed into law House Bill 1869, which authorized the creation of a Maternal Mortality Review Committee to determine the case of maternal deaths in Pennsylvania.
Since 1994, the rate of maternal deaths in the state doubled. In Philadelphia alone, 27.9 women per 100,000 live births died from 2010 to 2012. The state considers the increasing maternal mortality as a "serious public health concern."
Gov. Wolf believes that the committee will be able to help develop prevention mechanism and reduce maternal deaths.