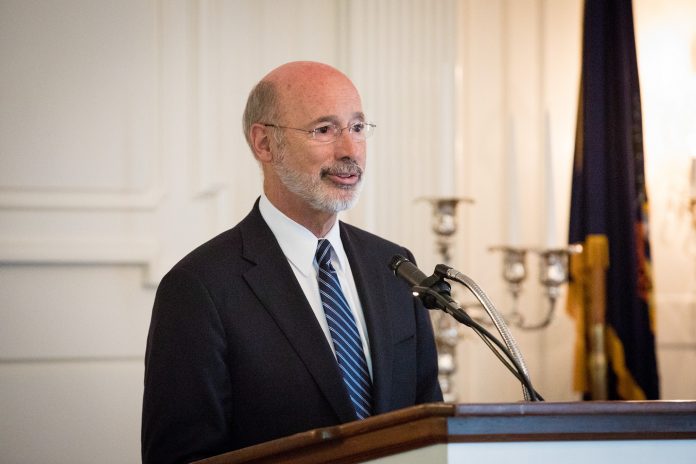 Pennsylvania Governor Tom Wolf encouraged the United States Senate to act immediately to reauthorize the Violence Against Women Act (VAWA), which expired on February 15, 2019.
Last week, the U.S. House of Representatives passed the VAWA Reauthorization with a huge bipartisan support.
Representatives Brian Fitzpatrick (PA-01) and Karen Bass (CA-37) introduced the VAWA Reauthorization, which included provisions for gun safety and tribal issues. Thirty three Republican representatives supported the legislation.
Since its enactment in 1994, VAWA made a significant impact, providing safety and support for countless women who are victims of sexual assault and domestic violence. The legislation received reauthorization with strong bipartisan support in 200, 2005 and 2013.
A critical, lifesaving legislation
In a statement on Thursday, Gov. Wolf praised the House of Representatives for passing the VAWA Reauthorization and "standing up for the survivors of domestic violence."
"I now call upon the Senate to act rapidly to advance a reauthorization of this critical, lifesaving piece of legislation," he added.
Furthermore, the Pennsylvania Governor said VAWA "would strengthen gun safety measures nationally. These safeguards would keep guns from dangerous individuals and protect women against fatal violence."
Moreover, Gov. Wolf noted that Pennsylvania's new law that makes it more difficult for domestic abusers to possess guns took effect on Wednesday. He went on to say that the state needs to pass more common sense legislation to prevent gun violence.
The governor has been asking state legislature to pass legislation requiring universal background checks to all gun buyers. He believes that universal background checks are one of the best ways to stop dangerous people from possessing weapons.
Schumer calls on McConnell to bring VAWA Reauthorization for a vote
Meanwhile, on Wednesday, U.S. Senate Minority Leader Chuck Schumer noted that the National Rifle Association (NRA) is opposing the latest version of VAWA because an amendment the closes the "boyfriend loophole."
According to Schumer, the amendment "ensures that dating partners convicted of domestic abuse can lose access to their guns."  He added, "Too many Republicans are just going along" with the NRA, which he called "out of step on the issue."
Schumer further stated, "Senate Republicans should join their 33 House colleagues" in supporting the VAWA Reauthorization. He called on Senate Majority Leader Mitch McConnell to bring the legislation for a vote without delay.