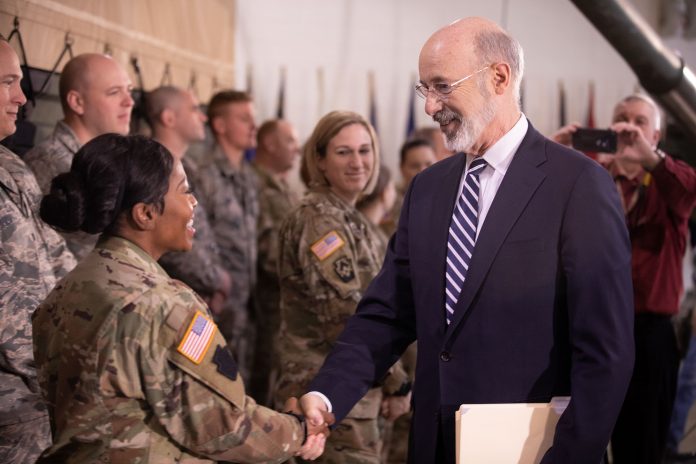 Governor Tom Wolf is proposing legislation to provide college tuition benefits for the spouses and children of Pennsylvania National Guard members.
On Wednesday, Wolf introduced the PA GI Bill or Military Family Education Program at Fort Indiantown Gap. It is the first-in-the-nation program that will pay for college education for the spouses and children of Pennsylvania National Guard members.
Under the legislation, the program is available to Pennsylvania National Guard members who commit to serve for additional six years. Their spouses and children will receive tuition-free college education for ten semesters or five years. They can use the tuition benefits at a Pennsylvania Higher Education Assistance Agency (PHEAA) approved educational institution.
Currently, Pennsylvania National Guard members are eligible for Education Assistance Program—a non-transferable education benefit—with their initial services of six years.
In a statement, Wolf said the PA GI Bill demonstrates that his administration appreciates the services and sacrifices of Pennsylvania National Guard members and their families.
"With the PA GI Bill, Pennsylvania can lead the way on a program I think we can all agree provides fitting support for our service members and their families who endure great hardships through multiple overseas deployments, training exercises, and domestic emergencies in and outside of the commonwealth," said Wolf.
In addition, the governor stated, "This program will recognize the sacrifice of our Guard families by offering education benefits to Guard spouses and children in Pennsylvania schools."
Gov. Wolf's proposal will help maintain a strong National Guard
Pennsylvania State Senator Mike Regan, commented, "In order for us to maintain a strong National Guard over the next several decades, it is important that we retain these citizen soldiers beyond their first enlistment. The Military Family Education Program will help in this cause."
On other hand, State Sen. Lindsey Williams said the Pennsylvania National Guard members deserve the education benefit for themselves and their families. He believes that the program will help retain and attract new service members.
Regan and Williams together with State Representatives Stephen Barrar and Chris Sainato are sponsoring the PA GI Bill.