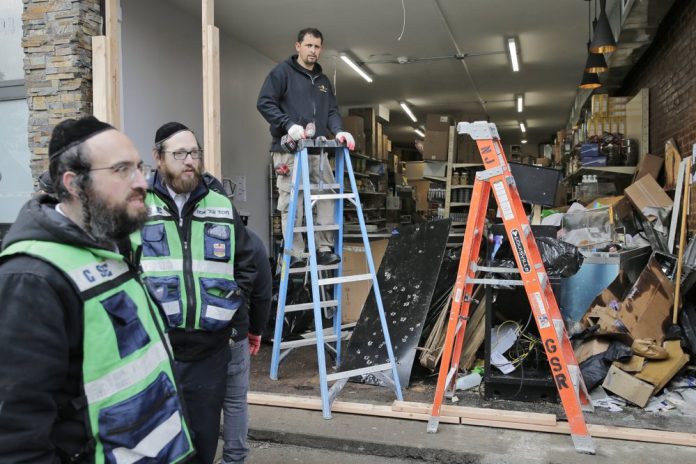 The two gunmen in a furious firefight that left six people dead in Jersey City clearly targeted a Jewish market, the mayor said Wednesday, amid growing suspicions the bloodshed was an anti-Semitic attack.
Meanwhile, authorities are investigating potential connections between the attackers and the Black Hebrew Israelite movement, some of whose members are known to rail against whites and Jews, a law enforcement official familiar with the case said. Investigators also are scouring social media postings of at least one of the gunmen in search of a motive, said the official, who spoke on condition of anonymity because the investigation is still going on.
The Southern Poverty Law Center has labeled the Hebrew Israelites a black supremacist group.
Mayor Steven Fulop refused to call Tuesday's violence an anti-Semitic attack but said surveillance video showed the gunmen driving slowly through the city's streets and then stopping outside a kosher grocery store, where they calmly got out of their van and immediately opened fire.
Neither the state attorney general, who is running the investigation, nor any other law enforcement authority confirmed the shooters targeted Jews. City Public Safety Director James Shea said Tuesday there was no indication it was terrorism. And police released no immediate information on the killers.
A police officer, three bystanders and the killers all died in the attack in the city of 270,000 people across the Hudson River from New York City.
The shooting began near a cemetery, where Detective Joseph Seals, a 40-year-old member of a unit devoted to taking illegal guns off the street, was killed while trying to stop "bad guys," Police Chief Michael Kelly said without elaborating.
The killers then drove a stolen rental van over a mile to the kosher market, where they waged a drawn-out battle with police that filled the streets with the sound of high-powered rifle fire and turned the city into what looked like a war zone, with SWAT officers in full tactical gear swarming the neighborhood.
At the grocery store, police found five bodies — the killers and three people who apparently happened to be there at the time. Police said they were confident the bystanders were shot by the gunmen and not by police.
Two of the victims at the store were identified by members of the Orthodox Jewish community as Mindel Ferencz, who with her husband owned the grocery, and 24-year-old Moshe Deutsch, a rabbinical student from Brooklyn who was shopping there. The Ferencz family had moved to Jersey City from Brooklyn.