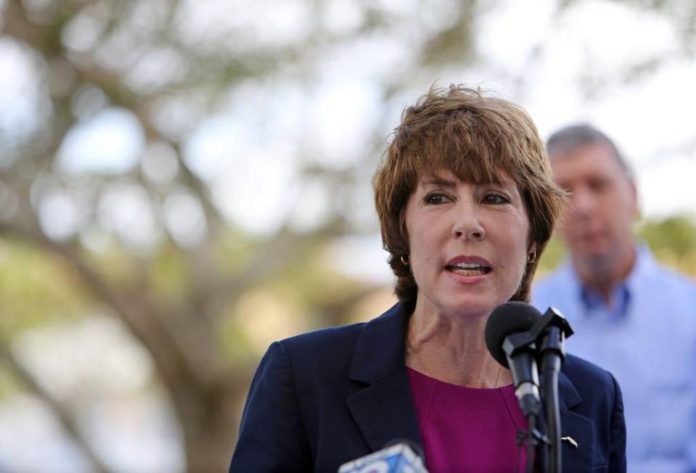 Last week, former U.S. Rep. Gwen Graham sat in front of a camera and called Sen. Marco Rubio's office to urge him not to support the upcoming Graham-Cassidy healthcare bill.
No one answered her.
She proceeded to call each of his state offices and saw the same result.
In a video, she can be heard leaving this message:
"Hi Senator Rubio, this is Gwen Graham in Florida and I am calling to implore you to please vote against the Graham-Cassidy bill. I could go through all the reasons, but I think you know them. This is bad for the state of Florida u are a senator representing the state and I expect you will do what is right for the people of Florida. So, I hope you get this message and I hope that you recognize that now is the time to do what is right and to vote against this horrible, horrible bill."
In a tweet with the video attached, she said this:
Senator @MarcoRubio, answer your phone.
☎️ 202-224-3041 ☎️ pic.twitter.com/yYJ3FRly4x

— Gwen Graham (@GwenGraham) September 22, 2017
"Senator [Marco Rubio], answer your phone."
Rubio's spokeswoman Olivia Perez-Cubas fired back, calling this a "stunt" and saying that Rubio's staff was busy helping people apply for FEMA assistance Hurricane Irma relief:
No live answer bc staff was out helping over 10,000 people apply for FEMA assistance, not sitting behind desk waiting for a political stunt pic.twitter.com/qs7MWOVM0B

— Olivia (@olivia_pc) September 22, 2017
The story was spread across major conservative outlets, such as The Daily Wire, where they made fun of Graham and criticized the "stunt."
"Perhaps instead of recording herself leaving preening messages on a senator's voicemail, Graham should be engaging with potential constituents in the recently hurricane-savaged state of Florida," the article reads, "Nah, that wouldn't gain her any attention."
As a major part of her platform, Graham advertises her role in voting against the repeal of Obamacare while she was in Congress.
This is in stark contrast to her platform when running to represent a Florida Panhandle district. In a campaign ad, she said "both parties got it wrong" when it came to healthcare – while Democrats wanted too much, Republicans gave too much to the insurance companies.
In such a conservative district, Graham worked hard to dissociate herself from the Affordable Care Act. Her tune has changed for the Democratic primary.
Recognizing the popular support for far-left principles, such as Medicare-for-All, many Democrats in primaries have followed this trend. After winning a primary, they quickly move back to the center and lose their base as Hillary Clinton did.