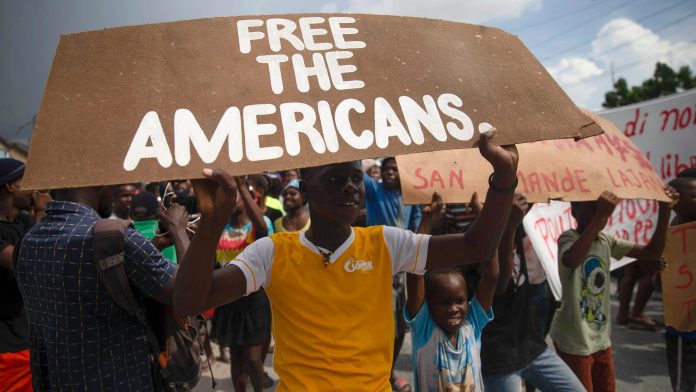 The Associated Press reported that the leader of Haiti's 400 Mawozo gangs threatened in a video to "put a bullet in the heads" of kidnapped American missionaries. Haitian Justice Minister Liszt Quitel said that the kidnap gang is demanding a ransom payment of  $1 million per person for each of the 17 missionaries.
"I swear by thunder that if I don't get what I'm asking for, I will put a bullet in the heads of these Americans," Wilson Joseph reportedly said in the video posted to YouTube on Thursday.
Joseph, who also goes by the alias of Lamo Sanjou, was dressed in a purple suit. He is recognized as the leader of the 400 Mawozo gang. Authorities believe the gang is responsible for the abduction of the missionaries this weekend.
The video also includes images of five dead men lying in coffins. Wilson Joseph describes them as "fallen soldiers." And blames their deaths on police chief Leon Charles.
"Leon Charles made me cry, gentlemen. When it was my turn, I cried my eyes out, and when I make you cry, I will make you cry tears of blood," the 400 Mawozo gang leader said.