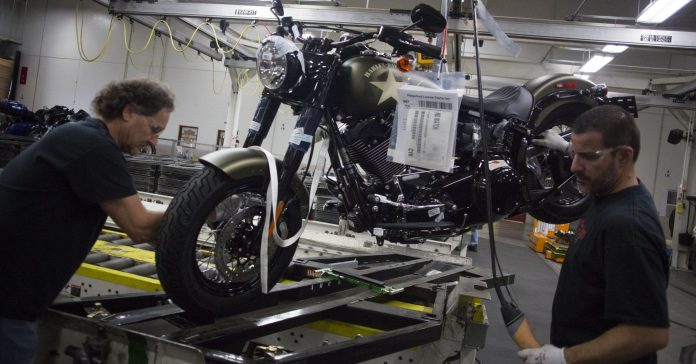 Harley Davidson announced on January 29, 2018, that their shipments for 2018 fell to a new six-year low. The motorcycle manufacturer announced that they would be closing their plant in Kansas City, Missouri, to consolidate manufacturing. The company's stock hit a 52-week low following the announcement but rebounded steadily on Wednesday.
Harley Davidson's Enviable Position
The 116-year-old company is in an enviable position despite recent woes. The company's bottom line is based on selling large bikes with big price tags. More riders in this category have been going to older brands that are being revived like Triumph and Ducati. The company has also been hurt in Asia and Europe because their price tag with United States tariffs added keeps them from being competitive.
Harley Davidson's Future Plans
Chief Executive Officer Matt Levatich is not content, however, to sit back and watch the company's shares continue to decline. Instead, he is working with engineers to design new bikes that will appeal to the younger urban crowd. These bikes will have smaller price tags, less power, and more maneuverability. Levatich hopes that as riders see the brand's dependability, they will then move up to the company's larger bikes as their incomes grow.

Disappointing Sales
Harley Davidson told investors that they had shipped fewer bikes than in any year since 2011. In the fourth quarter, Harley says their sales fell 9.6 percent overall. Sales in the United States fell 11.1 percent. Overseas sales fell 7.7 percent. The company says that they expect to ship only about 240,000 bikes during 2019, which will be fewer bikes than last year. The company says that closing the Kansas City plant will cost the company about $183 million this year. Therefore, investors should not expect a huge return on their stock during the year. Overall, the company hopes to save about $70 million annually through the consolidation move.
No Advance Notice Given to Affected Workers
The company gave the workers in Kansas City no advance notice that their plant was closing. In fact, they did not even tell leaders with the two unions who represent about 75 percent of the employees there. Many of the employees have been with the company since it started building motorcycles there in 1997.