Hedge funds own $1.4 trillion in stocks, according to a Bank of America report. That's the most ever, surpassing the old record set in 2015, but that isn't surprising. Two big shockers did jump out of the data, though: which stocks the a hedge fund might buy, and how it buys them.
Hedge funds are buying shares of more small- and medium-sized businesses. At the same time, they've sold off some of their holdings in large-cap companies.
Beat the market, or join it
Also, hedge funds are buying exchange-traded funds. Think of ETFs as baskets of stocks crafted by mutual fund managers. Their purpose is to allow middle-class investors to buy shares that they couldn't otherwise afford. Instead of putting $1,000 into one share of a $1,000 stock, retail investors can put $1,000 into an ETF and get the benefit of owning a little bit of that stock. But they also get the benefit of owning a little bit of every other stock that ETF invests in.
Some Wall Street observers find this odd, and maybe a little disturbing.
That's because most ETFs track an index. If the Dow goes up, the ETF that invests in Dow stocks goes up. If the S&P 500 goes down, the ETF that invests in S&P 500 stocks goes down.
The whole purpose of hedge funds, though, is to not track the market. They're supposed to beat the market, which is why hedge fund managers get paid so well.
Hedge fund investing in U.S. slows
The Bank of America report also says that hedge funds' short interest dropped sharply over the summer. Short interest boils down to the amount of money investors bet that stock prices will fall. This means hedge fund managers expect stock prices to keep going up.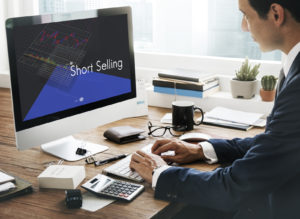 This bullish stance might not last, though. While hedge funds have acquired a record value of stock, the pace at which they're buying more has slowed, according to the report. This includes stocks the hedge funds own through ETFs as well as those they own directly.
The report estimates hedge funds now own 8 percent of all small- and medium-sized businesses' stock. That compares to the 4 percent of all large-cap stock owned by hedge funds.
Hedge funds' largest ETF ownership is a 6 percent share of Vanguard FTSE Emerging Markets. The $3.4 billion ETF invests in Chinese, Russian and other foreign companies.
Bank of America tracks 955 hedge funds through its quarterly report. It's based on information the Securities and Exchange Commission requires hedge funds and other Wall Street institutions to publicly disclose.