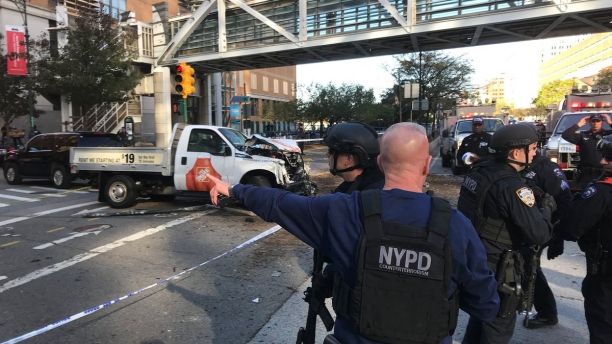 Police in New York City say "several" people are dead and "numerous" people injured after a vehicle drove onto a bike path near the World Trade Center in Lower Manhattan Tuesday afternoon.
Police tweeted that one person has been taken into custody and "no others outstanding."
FBI officials confirmed to Fox News that they have agents responding to the situation "with NYPD." A bomb squad is also on scene examining a vehicle.
Police and witnesses said a motorist drove onto a busy bike path and hit several people, and then got out of his vehicle screaming and firing what appeared to be a gun.
Mayor Bill de Blasio has been briefed on the situation, and is at the scene. The mayor's press secretary tweeted there was "NO active threat."
Governor Andrew Cuomo tweeted he has "been briefed with preliminary information on the situation in Lower Manhattan and am heading to the scene."
One witness who passed the scene while on the West Side Highway said he saw several peple bleeding on the ground and a truck hit several people. Another witness told The Associated Press the truck had collided with a small bus and another vehicle.