South Florida was the latest stop on Hillary Clinton's book tour to promote her account of the 2016 presidential election in a novel titled What Happened. With a news-filled week, she mostly took the time to voice her opinion of the latest current events at the Broward Center for the Performing Arts on Monday.
"I'm devastated by what happened in Las Vegas," she said. She expressed heartfelt concern for the victims and their families, and how she was inspired by the courage and compassion of those who came to help.
Then, she moved on to comment on what Republicans on Capitol Hill were saying about the tragedy.
In reference to White House Press Secretary Sarah Sanders's comments Monday about now not being the time to talk about gun control, Clinton said this:
"I have to tell you, what better time is there?" The audience cheered in response. "It's not too soon for us to say with one voice we are overdue for real, meaningful action."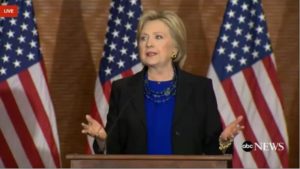 Clinton criticized the Trump administration for rolling back an Obama-era executive order which empowered judges to rule someone mentally unfit for the purpose of confiscating their firearms. She also ripped Congressional Republicans for supporting legislation that would make it easier to purchase silencers and said Americans must stand up to the NRA.
Finally, she moved on to talking about her book.
While she admits she's had time to get over the the election loss, she laments the "horror" of the Trump presidency. Whenever she would refer to him by name, the crowd booed.
She expressed her hope that Trump would "govern differently" than how he campaigned. She explained that those hopes quickly died after witnessing Trump's inauguration speech.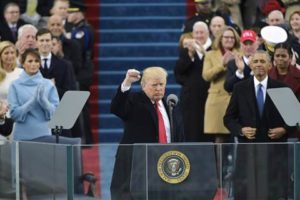 "That was the moment it became painfully clear to me that there was not going to be any change in the president elect and the candidate he had been. He delivered an inaugural address that was dark and talking about American carnage."
According to the 2016 presidential candidate, Trump's first speech as President was an appeal to his white nationalist base. She explained that the President was willing to criticize "all sorts of people," but not white nationalists like the neo-Nazis or the KKK. This was in reference to the President's response of Charlottesville, in which he said that there were "good people" on both sides.
For the duration of her remarks, Clinton was loose and un-rehearsed, refusing to use the teleprompter and devoid of notes. She was entirely unlike the Hillary Clinton who ran for President in 2016, and she admitted as much.
"Until now," she said, "I have always felt I have had to be somewhat careful in public. Kind of keep my guard up a little bit. But now I'm going to get down."