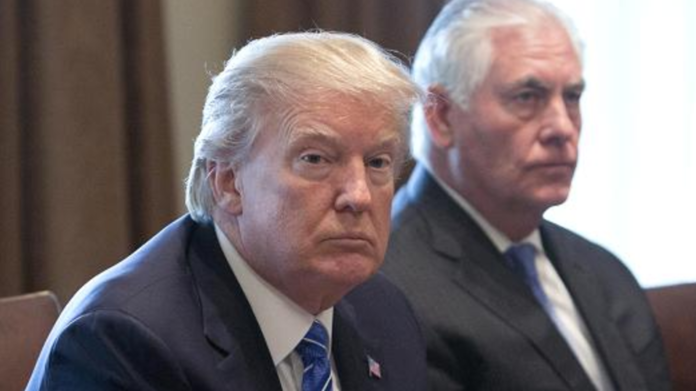 New reports from CNBC now allege that discord exists within the Trump administration.
Secretary of State Rex Tillerson
Further coverage from NBC News claims that Tillerson referred to President Trump as a "moron," and subsequently had to be talked out of resigning from his post by Vice President Pence. However, the specific identities of these sources are unknown right now. The aforementioned news comes from the word of "multiple senior administration officials."
Tillerson made the alleged remark in the presence of the President's Cabinet members and national security team. CNBC additionally states the White House was unavailable to comment on the assertion and chose not to speak with NBC. Whether they will make a statement going forward remains unknown.
Remarks From President Trump
Earlier this month the President tweeted out the following messages:
"I told Rex Tillerson, our wonderful Secretary of State, that he is wasting his time trying to negotiate with Little Rocket Man.."
"…Save your energy Rex, we'll do what has to be done!"
The American people interpreted the posts very diversely. However, Nicholas Burns who served as George W. Bush's undersecretary of state for political affairs stated the following about President Trump's aforementioned tweets:
"This was a direct public, I thought, repudiation of what Tillerson said. It feeds the perception that Tillerson does not have a trusting relationship with the President, and that's very harmful."
No one in the White House has confirmed that an untrusting relationship exists between President Trump and Secretary of State Tillerson.
Additional Speculations
At this time, there are no definitive certainties regarding the relationship between the President and Secretary of State. NBC alleges that Pence spoke to Tillerson, requesting him to respect President Trump publically and handle disagreements privately. The Vice President also allegedly asked Tillerson to work with others within the Trump administration.
Moreover, sources in contact with NBC claim the President and Secretary of State hold opposing views on foreign policy, especially regarding Qatar and Iran. According to unnamed sources, Tillerson's neutral remarks about the President's Charlottesville statements engendered further tension between the two men.
The above story reflects reports from unknown sources with alleged White House connection.
Additional updates will follow this story as new developments arise.