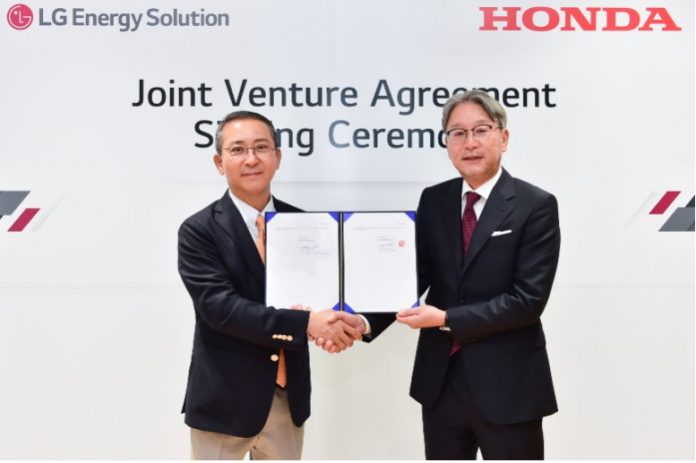 Honda Motor Co., Ltd (NYSE: HMC) and LG Energy Solution (KRX: 373220) inked a deal to establish a joint venture company to manufacture lithium-ion batteries in the United States.
The joint venture will invest a total of $4.4 billion to build a new plant to produce lithium-ion batteries to power Honda and Acure electric vehicle (EV) models for the North American market.
Earlier this year, Honda announced its plan to release 30 EV models worldwide and to produce approximately two million EV units annually by 2030.
Honda and LG Energy haven't finalized the location of the new EV battery plant with an annual production capacity of approximately 40GWh.  The joint venture aims to start construction early next year and to start the mass production of advanced lithium-ion battery cells by the end of 2025.
Both companies shared the belief that expanding local EV production in the U.S. and ensuring the timely supply of batteries would put them in the best position in the fast-growing North American EV market.
Honda and LG Energy joined a list of automakers including Ford Motor Company (NYSE: F), General Motors (NYSE: GM), Hyundai Motor Company (OTCMKTS: HYMTF), and Rivian Automotive (NASDAQ: RIVN) that are investing in EV battery factories.
Automakers are investing in EV battery plants following the United States-Mexico-Canada Agreement and the recently approved Inflation Reduction Act. Both implement more stringent rules that affect the EV supply chain and incentivize investment, production, and employment in the North American automotive sector.
LG Energy CEO Youngsoo Kwon said the joint venture's ultimate goal is to become the "leading battery innovator" and to provide sustainable energy solutions to consumers.
"Our joint venture with Honda, which has [a] significant brand reputation, is yet another milestone in our mid-to-long-term strategy of promoting electrification in the fast-growing North American market," added Youngsoo.
On the other hand, Honda CEO Toshihiro Mibe said, "Aligned with our longstanding commitment to build products close to the customer, Honda is committed to the local procurement of EV batteries which is a critical component of EVs. This initiative in the U.S. with LGES, the leading global battery manufacturer, will be part of such a Honda approach."