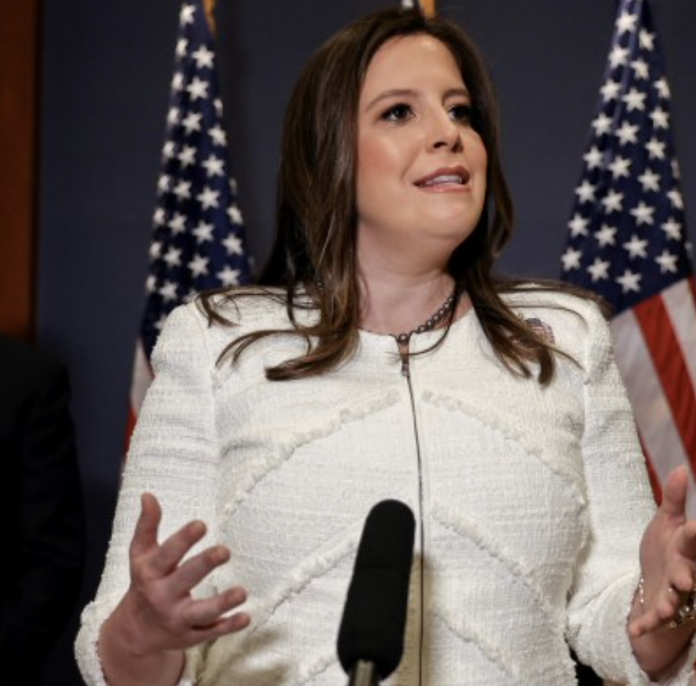 Rep. Elise Stefanik became the chairwoman of the House Republican Conference as of last week. Stefanik's rise to this post arrived after the House GOP voted out Liz Cheney due to differences of opinions on where to take the party.
Leader Kevin McCarthy has made very clear that the top priority for House Republicans must be to regain majority control. McCarthy and other House Republicans hence grew tired of Cheney continuously going after former President Trump. Stefanik, on the other hand, has made very clear that she is pro-Trump and supportive of the 45th president's America First policies.
On Sunday, the House Republican Conference chairwoman detailed the next steps for GOP leaders and congressional members.
Rep. Stefanik on the objectives of House Republicans
During a Sunday Morning Futures interview, the chairwoman of the House GOP Conference spoke clearly and concisely. Stefanik explained that Republicans are unified in their mission to expose and push back against the dangerous agenda of Biden and Pelosi.
This, in specific details, will involve revealing the adverse impacts that the border crisis, Middle East national security disaster, and economic turmoil are having on Americans. Stefanik then explained that Republicans aim to get the economy completely open again; other top goals include restoring energy independence and getting Americans back to work.
Republicans have consistently pointed out the ways in which Biden's anti-energy independence policies paved the way to current gas shortages. After all, when Biden became president, doing away with Keystone pipeline was one of his first executive orders; the Democrat president furthermore made a point of blocking drilling on federal waters and lands.
Due to these ill-conceived policies and others, the attack against Colonial pipeline earlier this month wrought devastating consequences.
Finally, Rep. Stefanik reminded the American public that despite Biden's talk of bipartisanship, not a single bipartisan bill has come from the House of Representatives or the White House.
Taking the Republican Party to victory in 2022
Leaders in the House Republican Conference are confident that Stefanik is an asset to the GOP. With all three House GOP leaders being firmly pro-Trump, the focus for Republicans can now be on winning the midterms.
The change in House GOP leadership also comes as Republicans focus on the necessary districts to defeat Democrats next year.