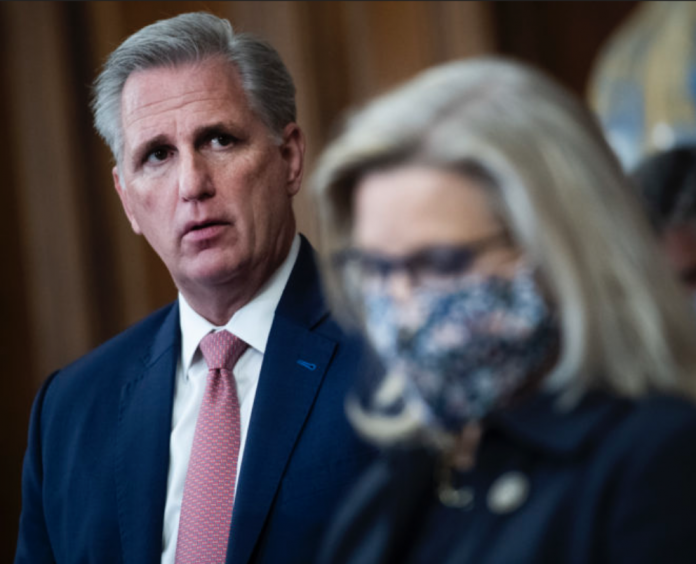 Most Republican Party leaders and voters are supportive of former President Trump. Time and time again, polls show that Trump maintains extremely high approval ratings within the Republican Party; however, the minority of GOP members who do not support the former president certainly don't hesitate to make this known.
During a House Republican retreat, House Conference Chairwoman Liz Cheney spoke candidly about her thoughts on the 45th president. Cheney declared that she doesn't think Trump should run for office in 2024 and also doesn't view him as a leader of the Republican Party.
Cheney's views are very different from Rep. Kevin McCarthy, the House Minority Leader and a steadfast ally to former President Trump. Over the past few days, Cheney's open statements about Trump have apparently created tension between herself and Leader McCarthy.
Differences in opinions between Reps. Cheney and McCarthy
On Tuesday, McCarthy did not outrightly criticize Cheney's remarks on Trump. The House Minority Leader did, however, talk about the importance of productivity while on a political retreat.
McCarthy opined that discussing "something else" other than America's future and policy matters is not a show of productivity. These remarks followed Cheney's latest criticisms towards Trump and her decision not to rule out a presidential run of her own.
The matter of upcoming presidential runs in 2024 is a matter that McCarthy chose not to wade too far into. The House Minority Leader simply stated that this is a matter for "the conference" to ultimately take up when the time comes.
The future for House GOP leaders
Differences in House GOP leaders' opinions pertaining to former President Trump are very clear. However, House Republicans are united in working to regain the majority during next year's midterm races.
Members of the House GOP are already directing attention to the districts they'll need in order to be victorious in 2022. However, even the midterms are not completely separate from the 45th president. McCarthy and Trump have spoken multiple times regarding the 2022 midterms and getting Republicans back in the House majority.
Moreover, the former president is committed to endorsing Republican candidates and making sure that Democrats don't maintain full control of Congress after next year.