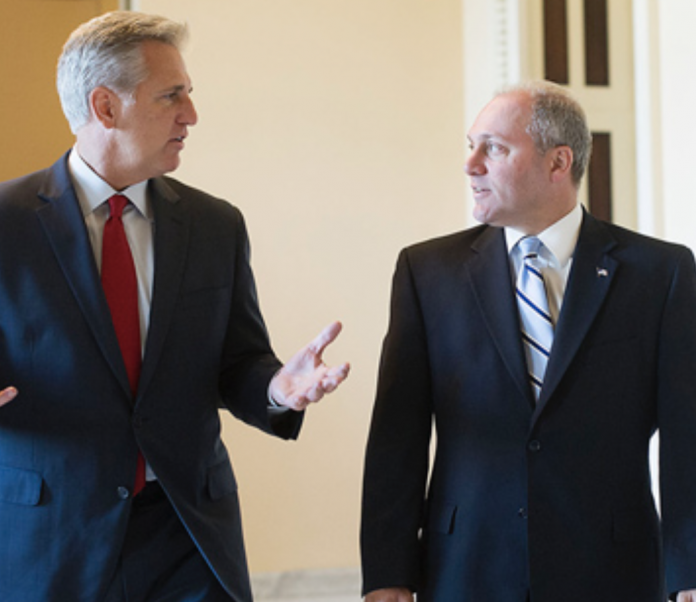 America's 2022 midterms elections are coming up and shaping up to be quite the showdown.
Typically, the party in the White House loses the midterms during the off-year, so this already bodes well for Republicans. Another factor that looks promising to the GOP is the reality that the Democrats' congressional majorities are each razor thin.
Over the course of this year, several different polls have shown that Republicans are widely expected to take back control of the House of Representatives. However, the GOP isn't just leaving this up to chance or good luck.
Republicans in Congress are strategizing and focusing on the necessary districts. Furthermore, House Republican leaders have already raised multiple millions of dollars ahead of next year's midterms.
GOP fundraising for the 2022 midterm elections
At this time, House Minority Whip Steve Scalise has raised a grand total of $16.1 million ahead of next year's midterms; Scalise's campaign made this announcement on Monday, something that signals strong support for the House GOP leader.
In a statement, the House Minority Whip spoke about matters that have contributed to such impressive fundraising. Scalise explained that increasing energy costs, higher crime, the border crisis, and more shows a clear need for conservative leadership. The Louisiana Republican furthermore noted that Americans know the radical left Democrats aren't truly working for the people.
Earlier this year, Scalise also gave a fair amount of the funds he raised to the GOP. Between April and June of this year, the House Minority Whip sent $4.5 million to the National Republican Congressional Committee.
The power of the midterms
The 2022 midterm elections could arguably be some of the most consequential political races this country has ever seen.
Getting Republicans back into the House and Senate majorities will send a clear message. It will show that defunding the police, opening up the Southern border, pushing for critical race theory in schools, etc., are not acceptable to the American people. Furthermore, a GOP-controlled House and Senate shall provide balance in the federal government, especially contrasted with the Biden-led White House.
In the weeks and months to come, Americans can expect to hear much more about the 2022 midterm elections.