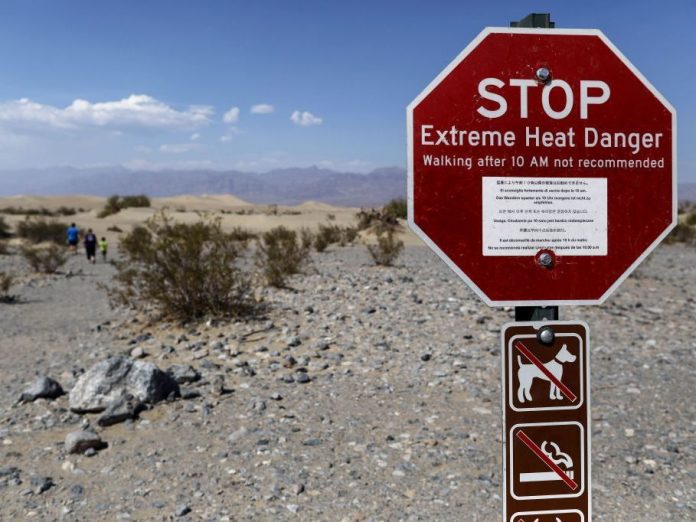 In Death Valley, California a deadly heatwave continues to punish the Western United States. On Sunday temperatures hit all-time record highs for the third day in a row. The scorched earth heat of  130-degrees Fahrenheit (54 Celsius), was the hottest temperature ever recorded on the planet.
Reuters reports that this weekend, outside the Furnace Creek Visitors Center in Death Valley tourists, gathered at the National Park to witness the event. On Saturday the National Weather Service recorded the temperature at 130-degrees making it one of the highest ever recorded on Earth. Outside the visitors center, a park ranger measured the sidewalk temperature of 178-degrees Fahrenheit on Sunday.
Most visitors stayed inside their air-conditioned cars. And only got out to get photos with the Park thermometer.
The National Weather Service issued excessive heat warnings across parts of California, Oregon, Nevada, and New Mexico. The NWS cautioned residents that high temperatures are hazardous to their health. And urged that everyone keep children, the elderly, and pets cool.
Another day of potentially record-breaking heat is in store for portions of the western US today. Heat-related illness can sneak up on you. Know the signs. pic.twitter.com/uPmMfYPX8z

— National Weather Service (@NWS) July 12, 2021
Dangerous Fires in  Pacific NW
The heatwave extends across much of the Pacific NW. Major wildfires were fed by the sweltering heat. Pressure on power grids is putting them at-risk. A large blaze burned in Southern Oregon that threatens 1,200 homes.
Some of the fires were ignited burning along a high voltage power corridor connecting Oregon's power grid with California's. Officials in both states worry that electricity could be knocked out to thousands of homes and businesses
On Tuesday, the Bootleg Fire broke out burning 144,000 acres, or 224 square miles in and around the Fremont-Winema National Forest. As of  Sunday afternoon, it still has not been contained.
926 firefighters are working the blaze. Conditions are so dangerous that many of them have been told to "disengage and move to predetermined safety zones," managers said. So far, there have been no fatalities reported.
The hottest temperature extends to Texas
The heatwave also smashed records in parts of Texas and throughout the Southwest. And the Midwest and East can expect to see the excessive heat return to those areas by this weekend.
July 2021 saw Texas cities tie or set all-time heat records. Del Rio (112 degrees),  Amarillo (110 degrees), Lubbock (111 degrees), and San Antonio (107) all experienced the hottest temperature ever. 
Borger, Texas, located 40 miles northeast of Amarillo, saw temps soaring to 116 degrees on July 11. That's typically the average high in July for Death Valley.
The previous high was 113 degrees set on June 26, 2011. Records have been kept in Borger since 1949. That's typically the high temperature in July for Death Valley, California.