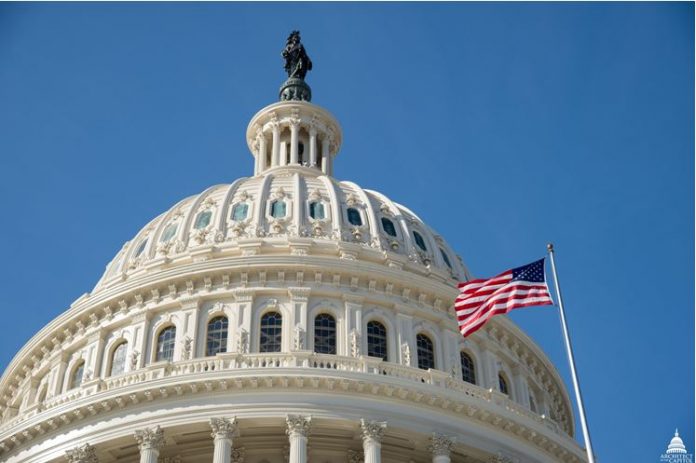 The U.S. House of Representatives approved a short-term spending bill that includes $5.7 billion in funding for President Donald Trump's border wall. The bill also includes $7.81 billion in funding for disaster relief.
The House resolution passed 217-185 votes—eight Republicans joined all 177 Democrats in voting against it.  The measure in contrast with the Senate-passed continuing resolution that would keep the government funded until February. It includes $1.6 billion in funding for border security, but nothing for the construction of border wall. The lower house's short-term spending bill increases the possibility of a partial government shutdown starting on Saturday.
Earlier Thursday, Trump told the House GOP leadership that he will not sign the Senate's short-term spending bill. His decision prompted Republicans to revise their bill to include the funds for border wall and disaster relief.
In his remarks at the farm bill signing Thursday afternoon, the president said, "I've made my position very clear: any measure that funds the government must include border security."
In a video message posted on Twitter, Trump said, "Border security is so important…The fact is, we need the wall… The Democrats know it, everybody knows it…We have to build the wall; it will get built. We are going to complete it…"
Democrats, it is time to come together and put the SAFETY of the AMERICAN PEOPLE before POLITICS. Border security must become a #1 priority! pic.twitter.com/Wck6UpQGil

— Donald J. Trump (@realDonaldTrump) December 20, 2018
Schumer says House short-term spending bill will not pass in the Senate
Prior to the passage of the House's short-term spending bill, Senate Minority Chuck Schumer, said, "The bill that's on the floor of the House, everyone knows, will not pass the Senate. It's a cynical attempt to just hurt innocent people and do just what President Trump wants even though they probably know it's bad for the country."
Additionally, Schumer said, "It is a shame that this president is plunging who is plunging the nation into chaos, is throwing another temper tantrum and is going to hurt lots of innocent people. The Trump temper tantrum may produce a government shutdown; it will not get him the wall."
President Trump is plunging us into chaos.

The stock market is down 500 points. Secretary Mattis is leaving. We know he had serious disagreements with President Trump over Syria and the wall.

And now, another temper tantrum and a Trump shutdown over Christmas is nearly upon us. pic.twitter.com/6rCQmEjSKd

— Chuck Schumer (@SenSchumer) December 21, 2018
Senate Republicans need the support of nine Democrats to pass the House short-term spending bill.
In his remarks at the Senate floor earlier Thursday, Schumer said, "Democrats are not budging on the wall. We favor smart, effective border security, not a medieval wall. A Trump shut down will not convince a single Democrat to support bilking the American taxpayer for an ineffective, unnecessary and exorbitantly expensive wall."