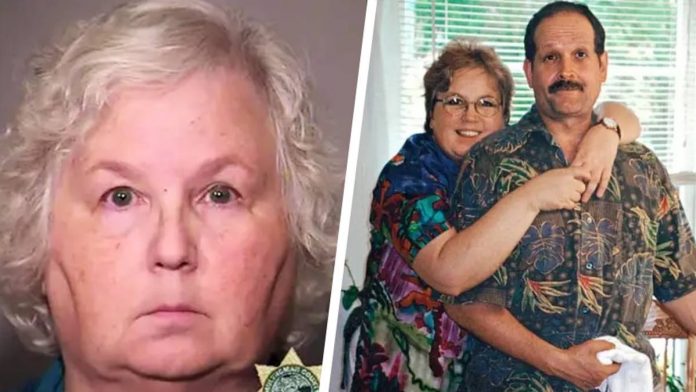 Nancy Crampton Brophy, 71, was convicted on Wednesday of the 2018 murder of her husband. Nancy is a romance author whose 2011 online essay 'How to Murder Your Husband' was not allowed to be used as evidence by the judge.
Although the author was arrested in September 2018 her trial didn't begin until April 5, 2022.
Daniel Brophy, 63, was shot and killed at the Oregon Culinary Institute going to work. He was a chef and cooking instructor.
A jury consisting of seven women and five men found her guilty of second-degree murder.  in the death of her husband, Daniel Brophy.
Multnomah County District Attorney Shawn Overstreet told jurors the author's motive was greed.  And the couple was in a state of 'financial despair."
The prosecutors also pointed to the $1.4 million life insurance payout that Nancy Brophy received.
Murder your husband and go to jail 
During the seven-week trial, Overstreet claimed that Nancy Brophy "executed what she perhaps believed to be the perfect plan."
The prosecution's case included details of how Nancy Brophy acquired a "ghost gun kit" and spare gun parts online in the weeks before her husband's murder. 
Shell casings of a Glock 9mm handgun were found at the crime scene. The casings matched the type of gun used. Prosecutors claimed that Nancy Brophy swapped out the barrel of the gun she used to murder her husband. And then tried to get rid of it.
She was accused of following her husband to work. And shooting him before he entered the building. At the time of the shooting, traffic cameras caught her car on the streets near the culinary school.
Nancy Brophy's attorney argued that the couple had solved their financial problems by cashing out some of Daniel's retirement savings plan. And she had no reason to kill him.
The defense also claimed that she made her online gun purchase as research for a novel. And it was a coincidence that she was nearby when the murder occurred working on her book.
The "How to Murder Your Husband" author also penned a series of novels including "The Wrong Husband" and "The Wrong Cop." 
After the verdict was announced the chef's mother said she felt justice was finally served after 3 years. Sentencing is set for June 13th.