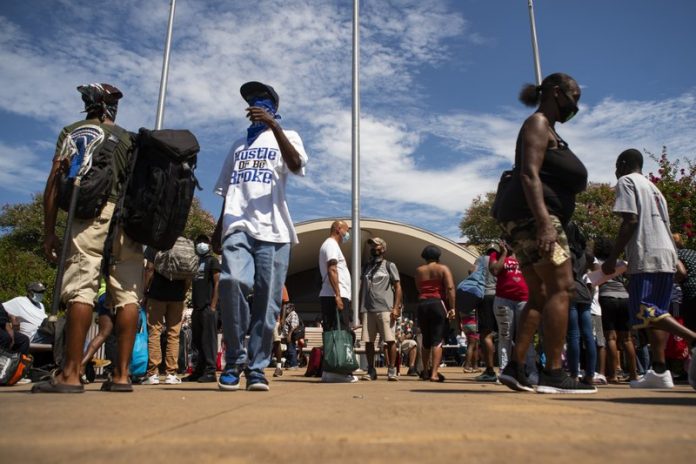 20 million people live in the anticipated path of Hurricane Laura, which has been upgraded to category 4. 500,000 people in Texas and Louisiana have been ordered to evacuate. Thousands more are boarding up their homes and heading North.
Texas Gov. Greg Abbott issued mandatory evacuation orders for 5 counties along with the Cities of Galveston and Port Arthur. He is calling for a voluntary evacuation of many other vulnerable low-lying areas in the storm's path. Reception centers for evacuees are set up throughout the state.
In Louisiana, the low-lying Calcasieu Parish has a mandatory evacuation for 200,000 residents. Forecasters fear the area will experience up to 15 feet of storm surge and leave entire communities underwater.
Livestream images show wind gusts of up to 155mph which is almost unprecedented.
In Texas and Louisiana, warnings go out
Hurricane Laura is forecast to gain power as it heads towards the Texas/Louisiana coastline. It had winds measured at 110 mph (175kph) on Wednesday morning. Meteorologists expect it to strengthen into a "catastrophic" category 4 hurricane as it gathers wind and water in the Gulf of Mexico.
When it makes landfall, waters are expected to rise as much as 20 feet due to "the combination of a dangerous storm surge and the tide."
The National Hurricane Center gave a briefing early Wednesday. Satellite images show that Laura has become "a formidable hurricane" and an increasing threat to the communities in its path. It has transformed from a tropical storm to a hurricane capable of catastrophic damage. The hurricane is continuing to grow  "and there are no signs it will stop soon," said the National Hurricane Center spokesman.
"We are expecting widespread power outages, trees down. Homes and businesses will be damaged," said Donald Jones, a National Weather Service meteorologist in Lake Charles, Louisiana.
Lake Charles is forecast to be in the direct path of Hurricane Laura. The hurricane's diameter currently stretches from Sea Rim State Park in Texas, 300 miles to Intracoastal City, Louisiana.
"I'm telling you, this is going to be a very serious situation," Jones emphasized.
If Hurricane Laura does not weaken or change its trajectory it will do catastrophic damage. "Power outages will last weeks to possibly months. Most of the area will be uninhabitable for weeks or months," the weather service claims.
The storm surge scenario is reminiscent of Hurricane Katrina, which devastated New Orleans 15 years ago on August 29, 2005. Today officials in Louisiana and Texas are better prepared for a Category 4 Hurricane. But there is no way to change its direction or the impact of the storm.
————————————————–
Have a story you want USA Herald to cover? Submit a tip here and if we think it's newsworthy, we'll follow up on it.
Want guaranteed coverage? We also offer contract journalism here.  Just be sure you're comfortable giving up editorial control because our journalists are dogged and will follow the story through to the conclusion. The story will be published to our exacting standards, without regard for your preferred slant.
Want to contribute a story? We also accept article submissions — check out our writer's guidelines here.