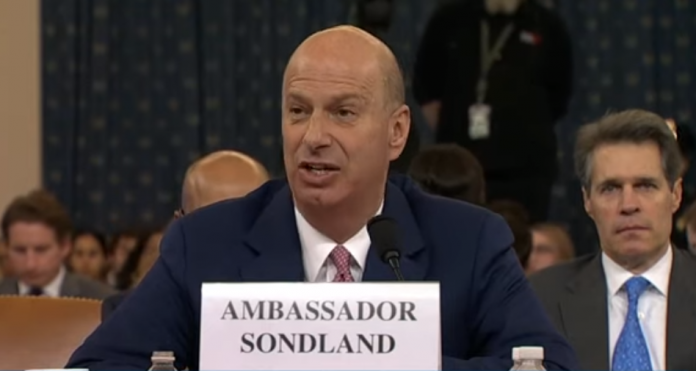 U.S. Ambassador to European Union Gordon Sondland testified at the impeachment hearing on Wednesday that President Donald Trump directed a quid pro quo (something for something) with Ukraine.
He made it clear in his testimony that Trump ordered them to pressure newly-elected Ukrainian President Volodymyr Zelensky to investigate former Vice President Joe Biden and his son Hunter. Trump will only grant Zelensky's request for a meeting at the White House if he agrees to announce the investigation into the Bidens.
Sondland said, "I know that members of this Committee have frequently framed these complicated issues in the form of a simple question: Was there a 'quid pro quo?' As I testified previously, with regard to the requested White House call and White House meeting, the answer is yes."
He also stated that the Trump administration withheld U.S. military assistance worth almost $400 million to Ukraine without any credible reason.
"In the absence of any credible explanation for the suspension of aid, I later came to believe that the resumption of security aid would not occur until there was a public statement from Ukraine committing to the investigations of the 2016 elections and Burisma," said Sondland.
Sondland implicates top officials in Ukraine scandal
Furthermore, he said, Trump's top officials including Vice President Mike Pence, Secretary Mike Pompeo, White House Chief of Staff Mike Mulvaney, and former National Security Adviser John Bolton, and former Energy Secretary Rick Perry were aware of the President's demand from Ukraine.
According to Sondland, "Everyone was in the loop. It was no secret. Everyone was informed view email on July 19, days before the Presidential call. As I communicated to the team, I told President Zelensky in advance that assurances to 'run a fully transparent investigation' and 'turn over every stone' were necessary in his call with President Trump."
Sondland explained that they were following Trump's orders through his personal lawyer Rudy Giuliani. He said, "Simply put, we played the hand we were dealt. We all understood that if we refused to work with Mr. Giuliani, we would lose an important opportunity to cement relations between the United States and Ukraine. So we followed the president's orders."
Sondland is a long-time Republican donor and a Trump loyalist. His testimony is damaging as he contradicted the President's claim that there was no quid pro quo.