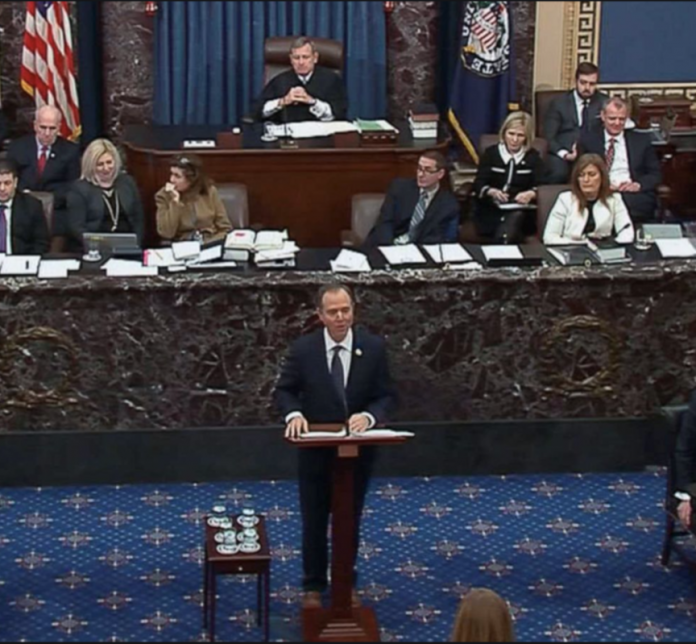 The Senate impeachment trial and 2020 presidential election are inherently intertwined with one another. Democrats' entire basis for wanting to remove President Trump from office hinges on allegations regarding a phone call with Ukraine leader Volodymyr Zelensky.
House Democrats allege that Trump pressured Zelensky to investigate Joe Biden and furthermore threatened to withhold aid from Ukraine. Both Trump and Zelensky have denied these contentions; both world leaders ongoingly maintain that no quid-pro-quo ever took place, however, this is not stopping Congressional Democrats.
A Quick Backstory on Biden's Involvement with Ukraine
As the Senate impeachment trial carries out and as both sides make their cases, Joe Biden is a major player in all this. Aside from the controversial phone call, Biden has taken heat for his own quid-pro-quo with Ukraine that he once bragged about.
During his time as vice president, the 2020 Democrat ordered the Ukrainian government to fire a prosecutor investigating his son's employer; furthermore, Biden threatened to withhold money from Ukraine until the termination of the aforementioned prosecutor.
While Biden gleefully boasted about all this after the fact, it's now coming back to haunt him. One Republican senator has already hypothesized that the former vice president's inherent links to the impeachment trial will hurt him in next week's Iowa caucuses.
Why the Impeachment Trial May Harm Biden in Iowa
As Democrats ramp up their attacks on the president, Trump's legal team is focusing on Biden's role in all this.
Aides for the president maintain that Hunter Biden's position on a Ukrainian gas company board during his father's time as vice president constitutes a conflict of interest. Furthermore, Biden's work to remove the prosecutor investigating said gas company raises additional questions about conflicts of interest with Ukraine. Of course, the former vice president claims that he's fully innocent.
All of this has engendered talk about the possible future testimonies of Hunter Biden and Joe Biden.
As a member of the Senate, Iowa Republican Joni Ernst explained that this level of attention and negative press makes her "not sure" about whether Iowans will eagerly back the former vice president.
See for yourself:
.@SenJohnBarrasso and @SenJoniErnst on the Iowa Caucus taking place next Monday "Will they be supporting VP Biden at this point? Not sure about that"

Watch More — https://t.co/wvPBk6KrjT pic.twitter.com/xrQJF0SkqC

— CSPAN (@cspan) January 27, 2020
The impeachment trial has reached a pivotal point. Attorneys working on behalf of the president are now able to make their case in his defense. Today doesn't mark the first time that Biden's name has come up; it certainly won't be the last.
Additional parts of the Senate impeachment trial will continue throughout this week. President Trump, for his part, continues to weigh in with his own thoughts via Twitter.
READ THE TRANSCRIPTS!

— Donald J. Trump (@realDonaldTrump) January 27, 2020
Schiff must release the IG report, without changes or tampering, which is said to be yet further exoneration of the Impeachment Hoax. He refuses to give it. Does it link him to Whistleblower? Why is he so adamant?

— Donald J. Trump (@realDonaldTrump) January 27, 2020