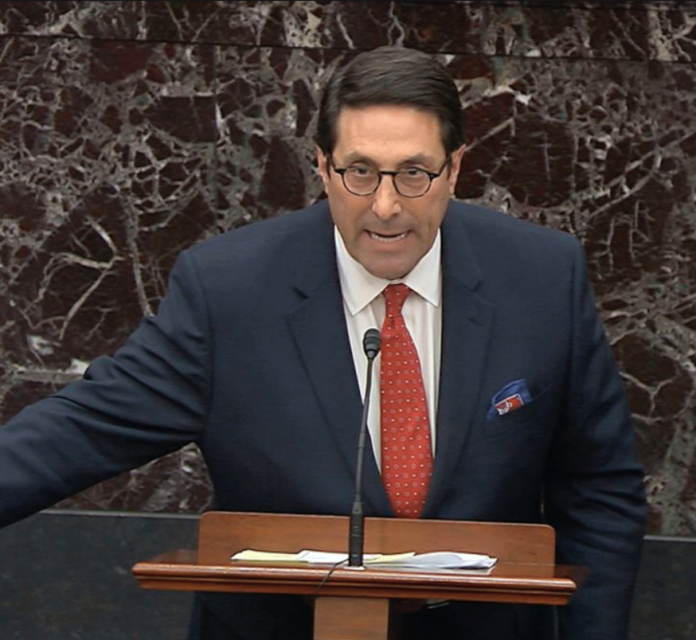 As the Senate impeachment trial continues to play out, a leaked manuscript of a book by former national security adviser John Bolton came into play.
To be precise, parts of the manuscript allege that President Trump specifically expressed that denial of aid to Ukraine could follow if the government failed to investigate Joe Biden and his son Hunter. Now, while these claims are both unverified and without evidence, the president's political adversaries believe the manuscript should serve as new evidence.
Trump attorney Jay Sekulow has a different outlook though. Earlier today, Sekulow spent time before the Senate, explaining why the aforementioned manuscript is "inadmissible."
Reviewing Sekulow's Take on the Leaked Manuscript
During his remarks before the Senate, the president's attorney warned about the perils of setting such a low bar for impeachment. Sekulow explained that the current actions carried out by Congressional Democrats will impact future leaders to come. Moreover, the president's lawyer explained to the body that Bolton's manuscript is "an unsourced allegation," and therefore inadmissible.
The Witch Hunt continues! https://t.co/7zkUnuPlw6

— Donald J. Trump (@realDonaldTrump) January 28, 2020
In the wake of the leaked manuscript, Trump has denied the allegations. Other Senate Republicans have adopted a similar attitude as Sekulow, questioning why Bolton hasn't yet testified. However, Trump's legal team maintains that even if the assertions in Bolton's manuscript did have merit, they still wouldn't constitute a crime on Trump's end.
How Will the Senate Proceed in Light of the Bolton Manuscripts?
On Friday, the Senate body is set to vote on whether or not to permit additional evidence and witnesses. However, this may not necessarily go in the preferred directors of the Democrats. Many conservative lawmakers maintain that if Bolton testifies, Joe Biden and Hunter Biden ought to follow suit.
The American people have heard enough & have lost interest in the impeachment process. People realize this is partisan & political. I'm comfortable making a decision on the impeachment of @realDonaldTrump without hearing additional witnesses or seeing additional documents. pic.twitter.com/UMIBgB8PmL

— Sen. John Barrasso (@SenJohnBarrasso) January 28, 2020
The testimony of the Biden duo is something which Democrat lawmakers have strongly opposed. Schumer infamously wrote off the notion of the aforementioned testimonies as a "misdirection." However, given the Bidens' inherent ties to Ukraine controversy, many Republicans have a different outlook.
Tomorrow, a 16-hour clock will begin; during this period, senators will have time to put together a series of written inquiries for both sides.
The president's legal counsel has repeatedly reminded the Senate that both Trump and Zelensky deny the occurrence of a quid-pro-quo.
KNOW YOUR FACTS:

1. Transcript shows no conditionality

2. Zelensky says no pressure

3. Ukraine didn't know aid paused

4. Dem witnesses said POTUS didn't want conditionality

5. Aid released, Ukraine did nothing for it

6. POTUS bolstered Ukraine support

(Dems have no case.) pic.twitter.com/lH17zDevqk

— Senate Republicans (@SenateGOP) January 28, 2020