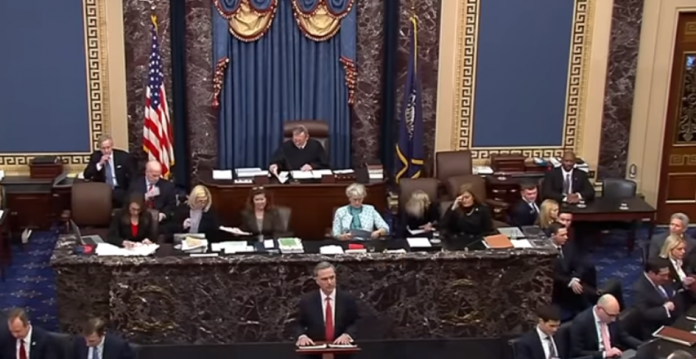 President Donald Trump's legal defense team concluded their arguments in the Senate impeachment trial on Tuesday.
The President's lawyers urged senators to immediately end the impeachment trial and acquit Trump. They reiterated that the allegations against Trump—abuse of power and obstruction of Congress—are not impeachable offenses under the Constitution.
Trump's legal counsel says impeachment would cause lasting damage to the U.S.
In his closing arguments, White House legal counsel Pat Cippolone said the impeachment is an effort by House Democrats to undo the 2016 election and interfere in the 2020 election. He urged the senators to let "every American to vote and to choose their president."
Cippolone, said, "Overturning the last election and massively interfering with the upcoming one would cause serious and lasting damage to the people of the United States and our great country."
"What they are asking you to do is to throw out a successful president on the eve of an election with no basis and in violation of the Constitution. It would dangerously change our country and weaken — weaken forever all of our democratic institutions. You all know that's not in the interests of the American people. Why not trust the American people with this decision. Why tear up their ballots, why tear up every ballot across this country. You can't do that. You know you can't do that," added Cippolone.
Impeachment is "not a game of leaks and unsourced manuscripts"
Trump's legal defense team also addressed the New York Times' bombshell report regarding former National Security Adviser John Bolton's unpublished manuscript.
Bolton stated in the manuscript that the President told him about his intention to continue freezing that $391 million in security aid to Ukraine until the nation's officials helped with investigations into his political rivals including former Vice President Joe Biden and his son Hunter. The issue is the focus of the impeachment trial against Trump.
On the Senate floor, Trump's lawyer Jay Sekulow argued that Bolton's revelations in the manuscript—even if it is true—is not an impeachable offense.
"Now, to be specific, you cannot impeach a president on an unsourced allegation, but what professor Dershowitz is saying is even if everything in there was true, it constitutionally doesn't rise to that level," said Sekulow, adding that the impeachment is "not a game of leaks and unsourced manuscripts."
When the report about the manuscript came out On Monday, Trump denied Bolton's claim in a series of tweets.
I NEVER told John Bolton that the aid to Ukraine was tied to investigations into Democrats, including the Bidens. In fact, he never complained about this at the time of his very public termination. If John Bolton said this, it was only to sell a book. With that being said, the…

— Donald J. Trump (@realDonaldTrump) January 27, 2020
…(Democrats said I never met) and released the military aid to Ukraine without any conditions or investigations – and far ahead of schedule. I also allowed Ukraine to purchase Javelin anti-tank missiles. My Administration has done far more than the previous Administration.

— Donald J. Trump (@realDonaldTrump) January 27, 2020
Meanwhile, John Bolton's revelations prompted moderate Republicans such as Senators Susan Collins and Mitt Romney to become more open to calling for additional witnesses.