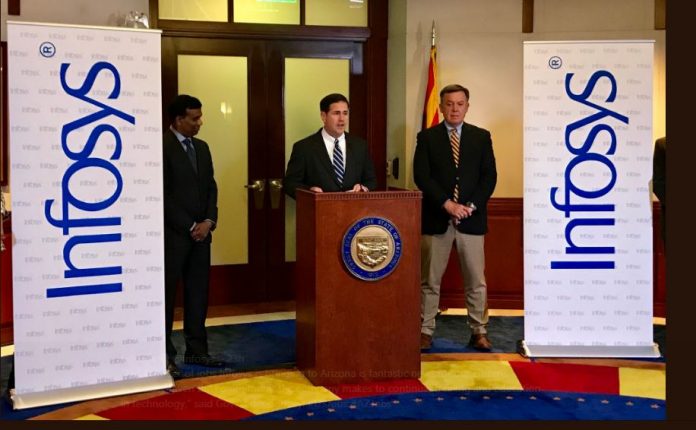 Infosys announced its plan open a Technology and innovation Hub  and hire 1,000  American workers in Arizona by 2023. The company is one of the global leaders in next-generation digital services and consulting.
Governor Doug Ducey and Infosys President Ravi Kumar made the announcement at the Arizona Capitol Building on Friday.
The Arizona Technology and Innovation Hub will concentrate on autonomous technologies, Internet of Things (IOT), full-stack engineering, data science and cyber security.
Infosys and Arizona are committed to workforce development
In a statement, Kumar said, "We are excited to announce the expansion of our presence in Arizona and to hire 1,000 workers for technology jobs in the state."
He added that the investment will strengthen the company's ability to deliver for its clients in Arizona and the Southwest. It will also help boost its clients' competitiveness in the global digital economy.
In a separate blog post, Kumar wrote, "In Governor Ducey and the State of Arizona, Infosys has found yet another partner equally committed to our principles of workforce development."
On the other hand, Governor Doug Ducey commented called Infosys' announcement a "fantastic news." For Arizonans. He thanked the company for bringing significant number of jobs in the state and for its commitment to providing training and education in technology.
Ducey said, "We are thankful for companies like Infosys who enhance our efforts to prepare the workforce for the future."
Arizona is a "tech industry leader"
Sandra Watson, President & CEO of the Arizona Commerce Authority commented that Infosys cemented Arizona's reputation as a "tech industry leader."
She added, "This operation will create a significant number of high-value jobs and focus on advancing emerging technologies."
Last year, Infosys made a commitment to open Technology and Innovation Hubs and hire 10,000 workers across the United States. The company reaffirmed that commitment with its project in Arizona.
In fact, Infosys already hired 5,874  workers in the country to date. Currently, it has two Technology and Innovation Hubs in the United States. One is located in Indianapolis, Indiana and the other in Raleigh, North Carolina.