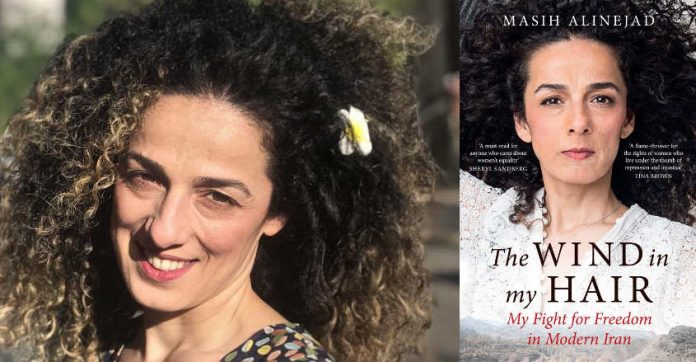 Federal prosecutors in the US on Tuesday charged four Iranian nationals with plotting to kidnap journalist, activist, and author, Masih Alinejad. The Iranian-American Alinejad has been critical of Iran. And she has been outspoken in her fight for human rights for women in that country. 
The failed kidnappers were concerned that Alinjad's book "Wind in my Hair" could mobilize public opinion in Iran. 
Masih Alinejad, a long-time activist, has been reporting human rights violations in Iran. She is a contributor to the US government-funded Voice of America Persian language service.
5 involved in a plot to kidnap journalist 
According to a New York federal court on Wednesday Iranian Intelligence Services allegedly plotted her kidnapping from New York City for rendition to Iran.
The unsealed indictment charges four Iranian nationals with a complex conspiracy related to kidnapping, sanctions violations, bank and wire fraud, and money laundering. According to court documents, Alireza Shavaroghi Farahani, aka Vezerat Salimi and Haj Ali, 50; Mahmoud Khazein, 42; Kiya Sadeghi, 35; and Omid Noori, 45, all of Iran, conspired to kidnap the Brooklyn-based journalist. 
The indictment alleges Farahani is an Iranian intelligence official who resides in Iran. Sadeghi,  Khazeinand Noori all reside in Iran. And are Iranian intelligence assets who work for Farahani. 
Another co-conspirator is currently a US resident living in California.  Niloufar Bahadorifar, aka Nellie Bahadorifar, 46, also an Iranian national, allegedly provided financial services to fund the plot.
Using card accounts Bahadorifar paid for things like a private investigator for surveillance of the intended victim. For her role in supporting the plot, Bahadorifar will be charged with conspiring to violate sanctions against Iran, committing bank fraud, and money laundering. Bahadorifar is also charged with structuring cash deposits in excess of $445,000.
This network run by Farahani also targeted victims in other countries, including  Canada, the United Kingdom, and the United Arab Emirates. 
Plot to kidnap journalist run from Iran
US prosecutors claim that in 2018, the Iranian government tried to entice or even pay Alinejad's family members in Iran to invite her to a third country. They intended to abduct her in another country and take her back to Iran.
This ploy was used in 2019 to capture Ruhollah Zam, an outspoken Iranian journalist living in France. Zam was lured to a third country where he was kidnapped and brought back to Iran. In 2020, he was executed by the Iranian government. It is thought that the Farahani group may have been responsible.
In June 2020  the Iranian government changed tactics. They began plotting to abduct her from the US. The indictment claims Iranian agents hired private investigators in the US to keep surveillance on the Alinejad family in Brooklyn. They told the surveillance team she was a missing person from Dubai and had fled the country to avoid paying the debt. 
The Iranians had done extensive research and even watched the family on a live feed.  They were in the midst of organizing a way out of the US with their victim when the FBI disrupted the plan to kidnap journalist Alinejad.
"Every person in the United States must be free from harassment, threats, and physical harm by foreign powers," said Acting Assistant Attorney General Mark J. Lesko for the Justice Department's National Security Division. 
"As alleged, four of the defendants monitored and planned to kidnap a U.S. citizen of Iranian origin who has been critical of the regime's autocracy, and to forcibly take their intended victim to Iran, where the victim's fate would have been uncertain at best," said U.S. Attorney Audrey Strauss for the Southern District of New York.
Masih Alinejad speaks out
William Sweeney, the head of New York's FBI office, also gave a statement saying, "This is not some far-fetched movie plot."
"We allege a group, backed by the Iranian government, conspired to kidnap a US-based journalist here on our soil and forcibly return her to Iran," Sweeney emphasized, "Not on our watch."
When the indictment was made public, Alinejad explained she had been cooperating with the FBI since they approached her eight months ago. The agents showed pictures of her taken by the alleged plotters. The FBI moved her and her husband to a series of safe houses during the investigation.
"The FBI did a great job to make me feel safe here, but to be honest, I'm a little bit disappointed with Biden's administration, because I'm still waiting for them to take strong action," Alinejad said. 
"When Jamal Khashoggi got brutally murdered, the whole world made statements of condemnation. I need the same, because another regime in the Middle East, the Islamic Republic, was trying to kidnap me. So that is why I want the Biden administration to be strong instead of just going after them, having a deal with them, they have to care about human rights as well."
The joint investigation involves the  FBI's New York Field Office, Counterintelligence-Cyber Division, and Iran Threat Task Force.
The prosecution will be handled by trial Attorney Nathan Swinton of the Justice Department's Counterintelligence and Export Control Section and Assistant U.S. Attorneys Michael D. Lockard, Jacob H. Gutwillig, and Matthew J.C. Hellman of the Southern District of New York.