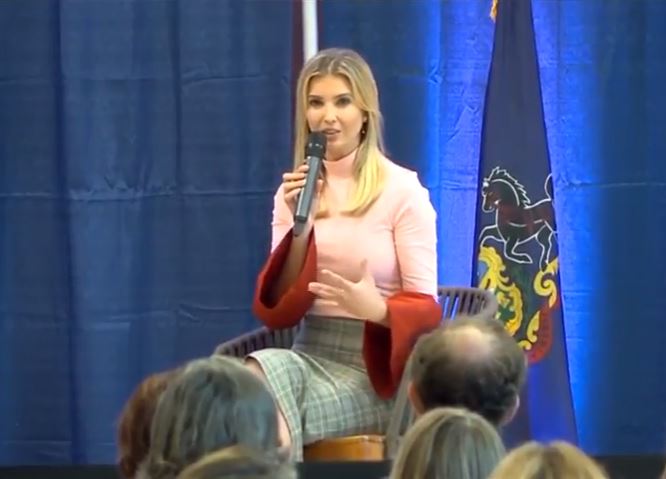 President Donald Trump's eldest daughter, Ivanka Trump endorsed the GOP's tax reform agenda during a town hall meeting in Pennsylvania.
Last month, the Trump administration unveiled its tax reform framework. The GOP plans to double the standard tax deduction, increase the child tax credit. The plan also includes reducing tax rates for small businesses and corporations.
During the town hall meeting, Ivanka Trump told the audience that overhauling the country's tax system is critical. She explained that tax reform is long overdue to address the increasingly competitive market and needs of American families.
According to her, "For me this tax plan really couples two things that are really core values as a country. Those values are "work and supporting the American family."
"This is about the recognition that, as a country, we have to have policies that mirror our values. We have to encourage the next generation to be competitive and compassionate, said Ivanka Trump.
GOP tax reform will provide relief to middle-income familes
Additionally, Ivanka Trump emphasized that the GOP tax reform plan is focused on creating jobs, growth, and providing relief to the middle- income families
Furthermore, the presidential daughter emphasized that the plan to increase the child tax credit will make "a big difference in the lives of many families." She tried to connect with the audience by sharing her experience as a mom who understands the challenges associated with the rising cost of childcare.
Ivanka Trump said, "Every parent has to manage the competing demands of raising a family and their passions. I, too, had to manage that, but I am far more fortunate than most. I had help, and I recognized that I wouldn't be able to do even a small fraction of what I was able to do professionally or as a parent … if I didn't have access to the means to be able to put my children in a secure and safe and protected and nurturing environment."
According to her, increasing the child tax credit could help families pay for quality daycare or send their kids to an after-school program.
Critical and transformative for young entrepreneurs
Moreover, Ivanka Trump told the crowd that the administration's plan to lower the corporate tax rate will promote economic growth. When asked about the impact of young entrepreneurs, she said it is "critical and transformative. She said young entrepreneurs are assessing the global dynamics around where they should start and headquarter their businesses.
In an interview Fox News' Sean Hannity, she said reducing corporate tax will boost the competitiveness of the United States. He pointed out that U.S. has the highest corporate tax rate among developed countries.