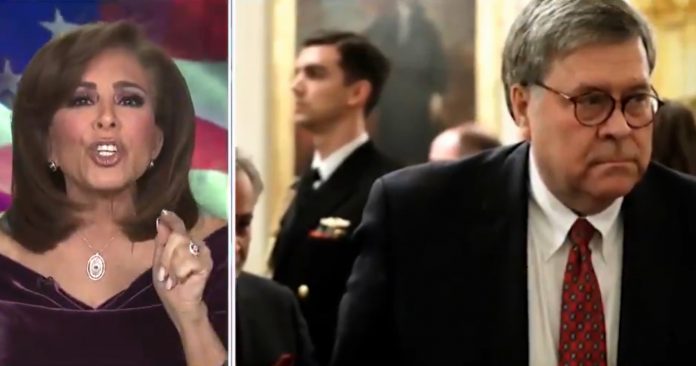 The war among Republicans, and in particular separate factions of the supporters of President Donald Trump, is in full effect.
Fox News host Jeanine Pirro was the latest soldier in the fight to take another fellow supporter as sides are beginning to be taken.
On Saturday, Pirro took to her Fox News show "Justice With Judge Jeanine" and said that Attorney General William "Bill" Barr is a member of the "swamp."
When one hundred million people vote before an election and a huge portion are mail in ballots…extraordinary regulatory oversight is required. #OpeningStatement pic.twitter.com/Tf7gV62Pe5

— Jeanine Pirro (@JudgeJeanine) December 6, 2020
"Unfortunately, the Attorney General Bill Barr has proven himself to be anything other than extraordinary," she said. "This week, Barr commented that he has not seen fraud on a scale that could have affected a different outcome in the election."
"Really? It's curious, Barr, the head of the DOJ would affirmatively make a statement regarding a pending investigation," the host said. "As a former prosecutor, for over three decades, I and virtually everyone similarly situated know that DOJ guidelines do not allow comment on investigations."
Pirro ended her nine-minute opening screed by saying that Barr is deep in the "swamp," so deep that he can't see beyond his "fellow reptiles."
"We need answers. We need action. We need justice. And you, Mr. Barr, are so deep in the swamp you can't see beyond your fellow reptiles, and you are not the exceptional leader needed at this exceptional time in history," she said.
Her comments came days after Barr said that he had not seen enough voter fraud to change the results of the election.
"There's been one assertion that would be systemic fraud and that would be the claim that machines were programmed essentially to skew the election results," the attorney general said. "And the DHS and DOJ have looked into that, and so far, we haven't seen anything to substantiate that."
But he did say more, that was not reported by many in the media, in which he said that the investigation was still underway.
"Some media outlets have incorrectly reported that the Department has concluded its investigation of election fraud and announced an affirmative finding of no fraud in the election," a spokesman for the DOJ said "That is not what the Associated Press reported nor what the Attorney General stated. The Department will continue to receive and vigorously pursue all specific and credible allegations of fraud as expeditiously as possible."
The Associated Press reported that many people are focused on the criminal justice system when it comes to finding remedies to the election issues but that, often, the remedies are found in civil court.
"Most claims of fraud are very particularized to a particular set of circumstances or actors or conduct. … And those have been run down; they are being run down," the attorney general said. "Some have been broad and potentially cover a few thousand votes. They have been followed up on."
—————————————-
Have a story you want USA Herald to cover? Submit a tip here and if we think it's newsworthy, we'll follow up on it.
Want to contribute a story? We also accept article submissions – check out our writer's guidelines here.