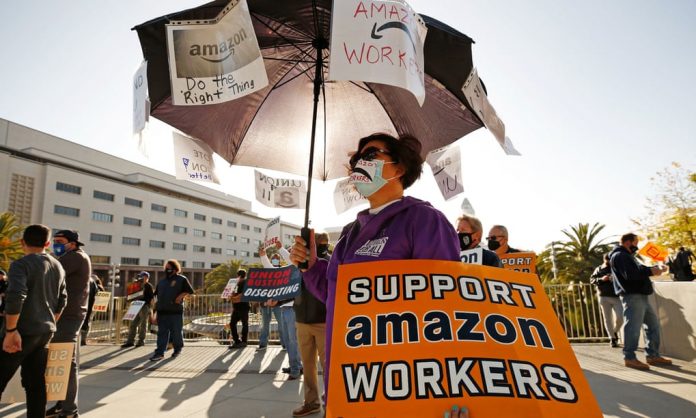 Amazon CEO Jeff Bezos addressed the ongoing controversy regarding the widely reported poor working conditions for Amazon employees and contractors in his final annual shareholder letter.
Bezos denied the allegations that Amazon has no care for its workers and the company is treating them like robots. He also rejected accusations that Amazon workers have "desperate souls." 
The outdoing Amazon CEO said the news reports regarding the company and its employees' situation were "not accurate."
He described Amazon workers as "sophisticated and thoughtful people who have options for where to work…Employees are able to take informal breaks throughout their shifts to stretch, get water, use the restroom, or talk to a manager, all without impacting their performance. These informal work breaks are in addition to the 30-minute lunch and 30-minute break built into their normal schedule," wrote Bezos.
He also explained, "We don't set unreasonable performance goals. We set achievable performance goals that take into account tenure and actual employee performance data. Performance is evaluated over a long period of time as we know that a variety of things can impact performance in any given week, day, or hour. If employees are on track to miss a performance target over a period of time, their manager talks with them and provides coaching."
Bezos also admitted that the company needs to improve its vision for creating value for employees despite having a strong relationship. He realized improvement on this aspect is necessary after the vote to unionize its Bessemer, Alabama plant.
Bezos provided details on how the e-commerce giant could improve both its public relations, as well as its employee satisfaction.
Jeff Bezos new vision for Amazon and its employees
He stated that Amazon "cared deeply" for its workers and his vision is to make the company the Earth's best employer and Earth's safest place to work.
He plans to utilize artificial intelligence (AI) to address all concerns about working conditions, scheduling, and health risks.
According to him, the company will use "sophisticated algorithms to rotate employees among jobs that use different muscle-tendon groups to decrease repetitive motion and help protect employees from MSD risks. This new technology is central to a job rotation program that we're rolling out throughout 2021." 
Bezos promised that Amazon will continue to "lead on wages, on benefits, on upskilling opportunities, and in other ways that we will figure out over time."
He expressed confidence that his two new vision statements: Earth's Best Employer and Earth's Safest Place to Work will reinforce their focus to becoming Earth's Most Customer-Centric Company. 
—————————————- 
Have a story you want USA Herald to cover? Submit a tip here and if we think it's newsworthy, we'll follow up on it. 
Want to contribute a story? We also accept article submissions — check out our writer's guidelines here.