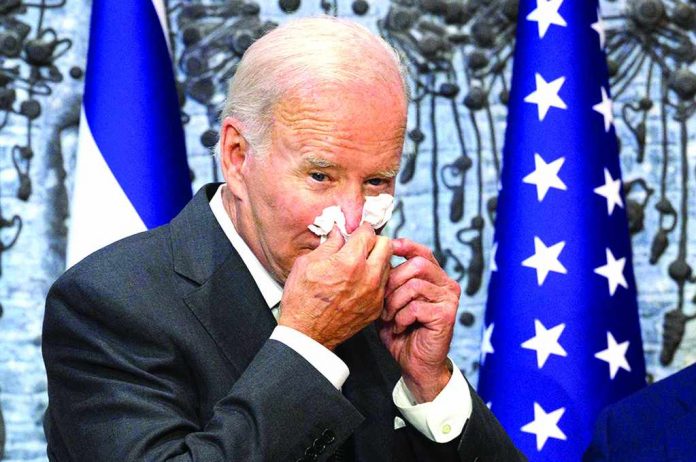 The 79-year-old U.S. President returned from an overnight trip to Israel and Saudi Arabia on Saturday. And Joe Biden tested covid positive on Thursday. 
According to White House physician, Dr. Kevin O'Connor, he is experiencing very mild symptoms. On Wednesday he had a runny nose, fatigue, and the occasional dry cough.
And his prognosis is good since he has received two of the original vaccine shots and two boosters. Dr. O'Connor immediately began treating his patient with Paxlovid, an antiviral drug used to prevent more severe symptoms.
Despite the fact that he is in 5-day isolation, Biden and White House officials claim he will keep working. And expects a mild case because he was vaccinated and boosted.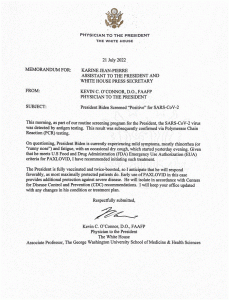 Biden covid positive risk factors
An important risk factor for developing a severe COVID-19 case is age. Since Biden is 79 years old, he is eight times more likely to be hospitalized with the virus. And he is also 140 times more likely to be at risk of death compared with a 20-year-old with covid.
Pre-existing health issues like cancer, obesity, or chronic lung or kidney disease could also increase the risks.  According to Dr. O'Conner's' November 2021 physical assessment Biden is reported to be in good health.
Recent information suggests that there has been approximately a 90% reduction in hospitalizations and deaths among patients who have been vaccinated.
Biden announced his covid diagnosis from a White House balcony on a Twitter video.
"I'm doing well, getting a lot of work done. And in the meantime, thanks for your concern. And keep the faith. It's going to be OK," Biden said.
At a briefing White House COVID-19 coordinator Dr. Ashish Jha said Biden "sounded great" when they spoke on the phone Thursday.
"He had been working all morning," Jha added. "He hadn't even been able to finish his breakfast because he had just been busy. I encouraged him to finish his breakfast."
As soon as he receives a negative test result, he will be able to return to his usual activities.
White House press secretary Karine Jean-Pierre also described the president's symptoms as "very mild." At the press briefing she said Biden is staying in contact with staff via phone. And she anticipates he will participate in all meetings through Zoom or phone from the White House residence.
First lady keeps full schedule
According to Michael LaRosa, Jill Biden's spokesperson, the First lady tested negative for covid. And she was masked for her trip to a Detroit school on Thursday. She spoke to her husband on the phone and told reporters that "He's doing fine. He's feeling good."
She maintained her busy schedule with appearances in Michigan and Georgia on Thursday. And although the president is isolated, she will have other appearances using CDC guidelines.