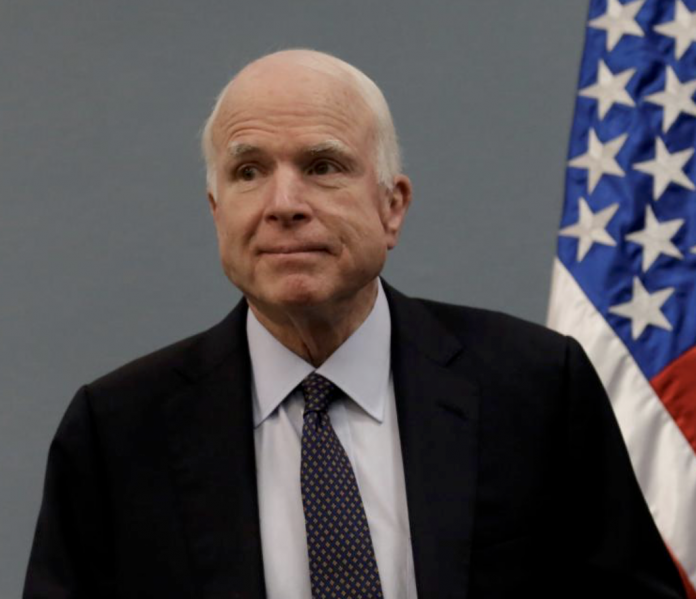 Arizona Republican Sen. John McCain passed away at age 81 on Saturday. McCain's death comes after a yearlong battle with brain cancer, reports The Hill.
An Overview of McCain's Passing
McCain's family announced his decision to stop accepting medical treatment for his glioblastoma about 24 hours before his death. They cited the inevitability of the "progress of disease and the inexorable advance of age."
McCain died at 4:28 p.m. with his family by his side, according to a statement from his office.
McCain's service in the U.S. Senate and his status as a decorated war hero prompted bipartisan mourning of his passing. Both Republican and Democrat leaders issued statements via social media and provided their condolences to the McCain family.
Paying Tribute to McCain
At this time, McCain's body will rest in state in Washington, D.C.'s Capitol Rotunda. The senator's funeral will take place at the Washington National Cathedral before his burial in Annapolis, Maryland.
McCain asked former Presidents George W. Bush and Barack Obama to give eulogies at his funeral. While Vice President Mike Pence's presence was also requested at the Arizona senator's funeral, President Donald Trump's was not. McCain and Trump frequently sparred with one another shortly before the passing of the former.
On Saturday night, McCain's body was transported to a North Central Phoenix mortuary. Upon its arrival, crowds awaited, passionately professing their love for the recently deceased senator.
McCain earned respect during his time as a prisoner of war in Vietnam, even refusing early release for the sake of not abandoning his fellow soldiers. Later, McCain's political service earned him the title of a GOP "maverick."
Shortly after the announcement of his death, various political leaders posted the following messages on social media:
I will need some time to absorb this, but I want Cindy —and the entire McCain family — to know they are in my prayers.

— Lindsey Graham (@LindseyGrahamSC) August 26, 2018
Our statement on the passing of Senator John McCain: pic.twitter.com/3GBjNYxoj5

— Barack Obama (@BarackObama) August 26, 2018
.@SenJohnMcCain lived a life of service to his country, from his heroism in the Navy to 35 years in Congress. He was a tough politician, a trusted colleague, and there will simply never be another like him. My thoughts and prayers are with Cindy and his entire family.

— Hillary Clinton (@HillaryClinton) August 26, 2018
My heart is broken. I am so lucky to have lived the adventure of loving this incredible man for 38 years. He passed the way he lived, on his own terms, surrounded by the people he loved, in the the place he loved best.

— Cindy McCain (@cindymccain) August 26, 2018
Trump also tweeted his own regards:
My deepest sympathies and respect go out to the family of Senator John McCain. Our hearts and prayers are with you!

— Donald J. Trump (@realDonaldTrump) August 26, 2018
However, some of Trump's critics slammed the president for his tweet, noting his past criticisms of McCain and his military service:
Take his name out of your mouth you piece of shit. You maligned his military service while you did everything to avoid serving. You attacked him repeatedly while you knew he was dying. And you cozied up to Putin while he did everything he could to oppose him.

Fuck You https://t.co/MepGRJJKpf

— Kathy Griffin (@kathygriffin) August 26, 2018
"He's not a war hero. He was a war hero because he was captured. I like people who weren't captured."
-Donald Trump on Senator John McCain
I'm never going to not remind @realDonaldTrump of his disgusting words.

— Nancy Fuller (@KayakTheRiver) August 26, 2018
Finally, McCain's daughter Meghan posted the following statement, which paid tribute to her father's influence on her life:
I love you forever – my beloved father @SenJohnMcCain pic.twitter.com/Y50tVQvlVe

— Meghan McCain (@MeghanMcCain) August 26, 2018