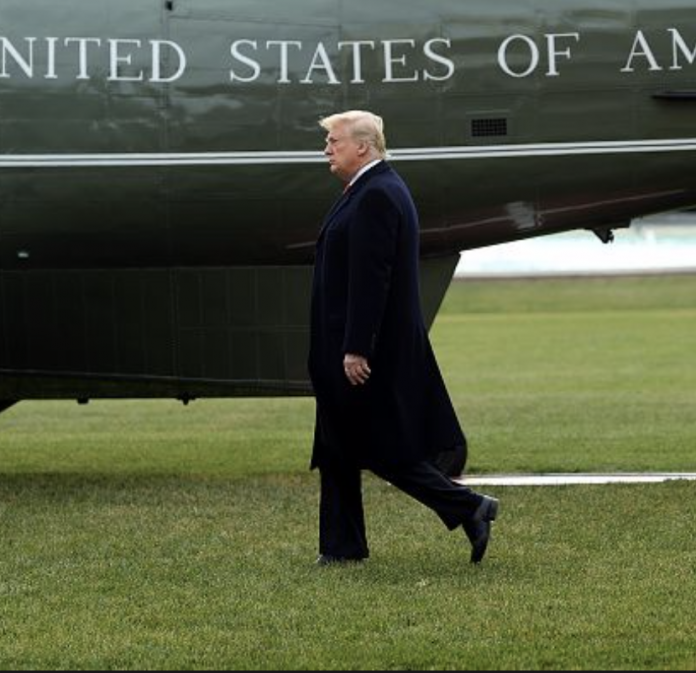 An edited video of President Donald Trump walking around the White House that suggested he is "lost" and "disoriented"  went viral on Sunday.
More than two million Twitter users saw the video and many questioned Trump's current mental and physical state. Several journalists immediately reacted and pointed out that the video was false. 
A Twitter user named Tom Joseph tweeted the edited video with a caption: "Trump is lost & disoriented here. His mind goes blank and he doesn't remember what he's supposed to do next. He's deep into his degenerative neurological disease- Frontotemporal dementia-mindlessly lumbering and zigzagging in the grass toward a puddle." 
In the video, Trump seems to be aimlessly staggering around the White House lawn and pointing at puddles. The original C-SPAN footage shows that Trump was waiting for First Lady Melania Trump and pointed out the puddle so she would not step on it. 
In a tweet, ABC News campaign reported Will Streakin called the video as "false" and "deceptive. He pointed out that Trump simply walked back to wait for First Lady Melania.
Trump was simply walking back to wait for FLOTUS here

This false tweet has over 23K retweets and the deceptively edited video has over 2 million views https://t.co/kJN0rBrrIq pic.twitter.com/QXmOlkEkTt

— Will Steakin (@wsteaks) September 7, 2020
Posting deceptive video is a "deliberate disservice to voters"
John Dabkobichfrom CBS Sacramento also commented that in the raw footage, Trump was waiting for First Lady Trump. 
Breitbart White House correspondent Charlie Spiering noted that the video was from 2019.
Kathryn Watson of CBS News condemned the video. She said, "It's not OK when either side does this. Deception is a deliberate disservice to voters. "
Joseph defended his initial tweet and continued to batter the President further, scrutinizing the traditional White House event set up and asserting the White House is trying to hide Trump's cognitive disease. 
On Monday, Twitter added a "manipulated media" tag to the video. In the afternoon, the video is no longer available on the social media platform.
The attack comes in the wake of years of Fake News and President Trump's battle against Fake News and biased news outlets.
Bideon was also a victim of manipulated video
Last week, presidential hopeful, former Vice-President Joe Biden, was the victim of a viral manipulated video which inaccurately showed him sleeping during an interview. The video supported Trump's attack on Biden whom he calls Sleepy Joe. 
In August, Twitter flagged a manipulated video posted by Rep. Steve Scalise (R-LA) misleading voters that Biden wanted to defund the police. In fact, Biden strongly opposes defunding the police. He wants to increase funding for police to expand "community policing." 
————————————————–
Have a story you want USA Herald to cover? Submit a tip here and if we think it's newsworthy, we'll follow up on it.
Want guaranteed coverage? We also offer contract journalism here.  Just be sure you're comfortable giving up editorial control because our journalists are dogged and will follow the story through to the conclusion. The story will be published to our exacting standards, without regard for your preferred slant.
Want to contribute a story? We also accept article submissions — check out our writer's guidelines here.