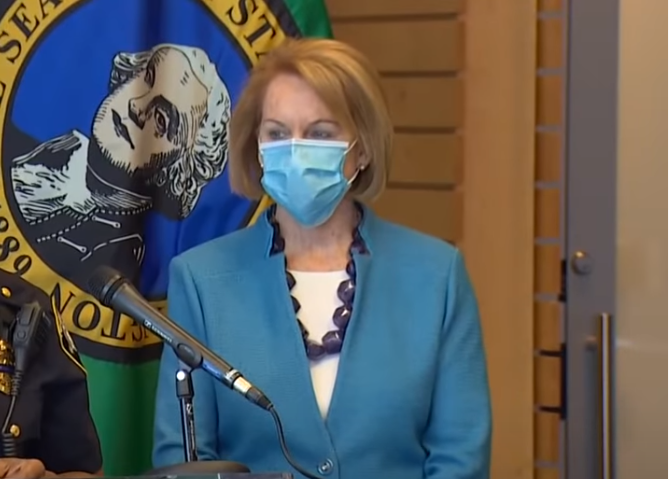 A petition for an election recall of Seattle Mayor Jenny Durkan has been approved by King County Superior Court Judge Mary E. Roberts.
Charges against the mayor were filed by five citizens and centered around accusations of abuses of power and allegations that Mayor Durkan failed to protect Seattle citizens during protesting. The original petition had six charges, including that she instituted a curfew without sufficient notice to individuals that would allow them to disperse, as well as failing to institute safety measures for the Seattle Police Department (SPD) in their use of crowd control measures.
The original petition also accuses the mayor of wrongfully subjecting bystanders to chemical weapons and crowd control measures and allowing the police to leak false information about crime and fabricated threats against the media.
Judge Roberts will be allowing only one of six of the original charges to proceed, saying that most of the charges were "legally and factually insufficient." Judge Roberts is allowing the petition to go forward with an amended ballot synopsis alleging that Mayor Durkan "failed to institute new policies and safety measures for the Seattle Police Department after learning of the use of chemical agents on peaceful protesters as a means of crowd control during a public health emergency."
Petitioners have 180 days to gather 56,202 physical signatures elicit a recall — 25% of the total votes cast for Mayor Durkan in her last election.
The accusations refer to recent protests in Downtown Seattle and Capitol Hill, also called CHOP (Capitol Hill Occupied Protest), where protests have been ongoing following the death of George Floyd. The protests have garnered media attention across the U.S., with mainstream media eagerly latching on to the sensationalism of an occupied protest in a district abandoned by police.
News outlets have vilified Seattle for allowing protesters to take over a police precinct without repercussions and Trump has even weighed in, advising Mayor Durkan to get her cities under control, even threatening military interference.
Durkan responded that protests were a fundamental right and that using the military against American citizens was illegal.
We are a nation of laws. The right to assemble, peacefully protest and hold government accountable is a fundamental, cherished right. It is illegal to use the US military against the American people. https://t.co/RfAr2BNzqd

— Mayor Jenny Durkan (@MayorJenny) July 10, 2020
But, despite tweeting about upholding American rights, there have been complaints from protesters about Durkan's handling CHOP. CHOP developed amidst criticism of police use of force against civilians, and while Durkan initially described the zone as a block party and intimating that it would wind down into a "Summer of Love."
But while Durkan was defending freedom of speech of Twitter, SPD were ignoring calls for assistance, ultimately resulting in loss of life. There were even reports that SPD had been instructed to "stay out."
From the beginning, there have been accusations made against SPD for their use of flash bangs and tear gas on peaceful protesters, even against children.
During the occupied protests there were multiple shootings and at least one death. But it wasn't until protesters marched on Durkan's home that she decided to disband the protest, garnering criticism from all quarters.
Seattle Mayor, Jenny Durkan, you supported the murders inside CHAZ/CHOP of 2 black people in your "Summer of Love" zone. There were dozens of assaults and at least one rape. You only ended your support when the murderous mob showed up at your house. You are dog shit.

— Glen Woodfin (@GlenWoodfin) July 2, 2020
In a statement released by the Fire The Mayor movement,lead petitioner Elliot Harvey said, "Jenny Durkan's abuses of power, lack of foresight and failure to protect the public — and the peace — in Seattle leaves us with no choice. This is exactly the kind of case a recall is intended to address."
The Fire The Mayor movement describes itself as a "grassroots campaign promoting justice and accountability during a moment in American history where both principles are vital."
It is unclear whether Mayor Durkan will appeal this decision.