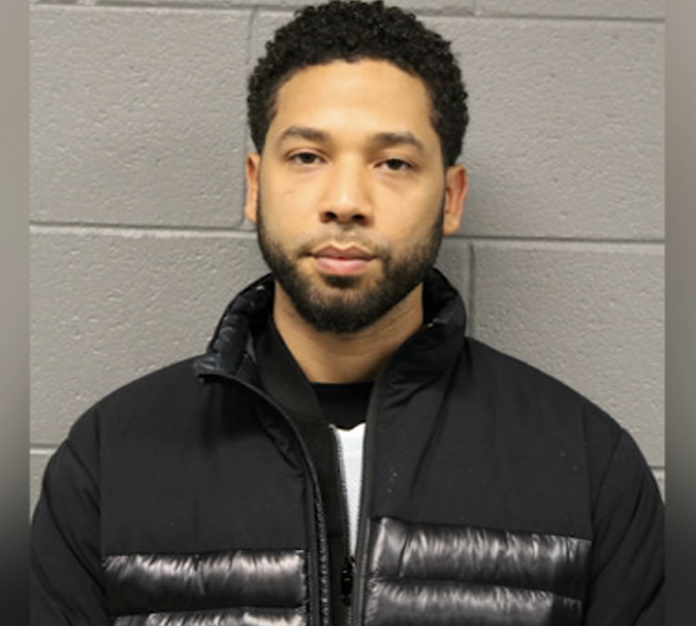 'Empire' actor Jussie Smollett is now in police custody after facing arrest for disorderly conduct.
The disorderly conduct charge comes as Chicago police reveal that Smollett staged the hate crime which he alleged to be a victim of. By reporting the faux crime to the police, Smollett filed a false police report; this is a felony in Chicago.
The Downfall of Jussie Smollett
Earlier this morning, the Chicago Police Department ripped into Smollett at a press conference. They noted that he employed the animosity towards racism as a means to garner attention and advance his career:
"This announcement today recognizes that empire actor Jussie Smollett took advantage of the pain and anger of racism to promote his career. I'm left hanging my head and asking why."
Eddie Johnson, the Chicago Police Department superintendent continued:
"How could someone look at the hatred and suffering associated with that symbol and see an opportunity to manipulate that symbol to further his own public profile?"
The press conference furthermore revealed that Smollett not only staged the hate crime against himself; he also sent himself racist, homophobic hate mail. When the hate mail failed to garner the attention and outcome which Smollett desired, he paid $3,500 to two Nigerian brothers. Video footage revealed the brothers purchasing ski masks and red hats days before the phony attack.
Moreover, Chicago police affirmed that the scratch and bruises on Smollett's face are his own work. The 'Empire' actor never faced attacks from racist or homophobic individuals.
As the press conference wrapped up, the Chicago police affirmed that they gave the Smollett case the same attention as any other report. However, after learning that Smollett intentionally staged the attack, they noted feelings of anger and disappointment. By filing this false report, Smollett wasted authorities' resources and committed a felony.
Reactions to the Jussie Smollett Arrest
Americans have not hesitated to weigh in. People of all political backgrounds and affiliations have expressed shock and amazement at the fact that Smollett would stage something like this. Others have also stated that his career is over. There is talk about whether or not his arrest will prompt a subsequent termination from Fox's hit show 'Empire.'
Fox Entertainment and 20th Century Fox Television released a public statement, following news of Smollett's arrest.
"We understand the seriousness of this matter and we respect the legal process. We are evaluating the situation and we are considering our options."
President Trump also provided his thoughts about Jussie Smollett:
.@JussieSmollett – what about MAGA and the tens of millions of people you insulted with your racist and dangerous comments!? #MAGA

— Donald J. Trump (@realDonaldTrump) February 21, 2019
(This report is a follow-up to USA Herald's previous documentation of the Jussie Smollett saga.)