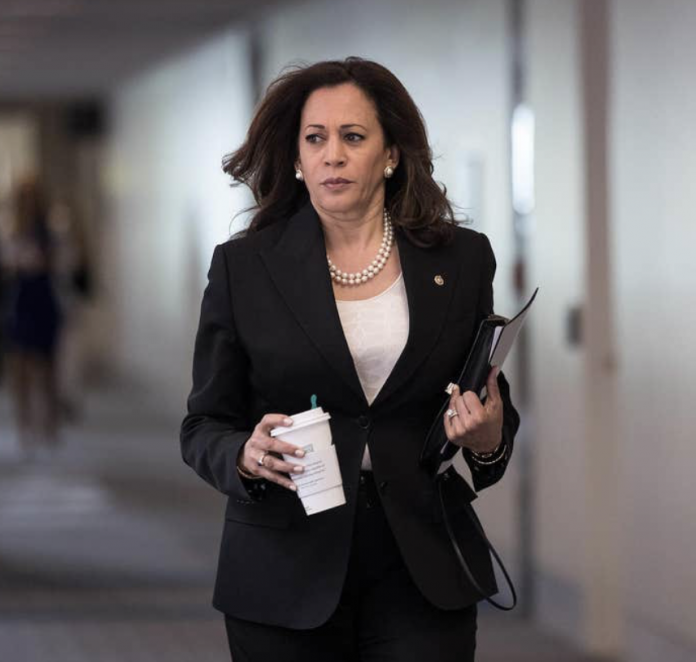 Precisely one week ago, Americans learned that the House of Representatives will move forward with an impeachment inquiry into President Trump. The basis of this inquiry comes from allegations made by an anonymous whistleblower; this whistleblower maintains that President Trump partook in a quid-pro-quo when speaking with Ukraine's leader.
Both Trump and the leader of Ukraine have denied these allegations, but this hasn't stopped the impeachment inquiry. Due to the current state of affairs, the president has tweeted factual updates about the matter; Trump is also directing criticism towards various congressional Democrats.
In the wake of all this, 2020 Democrat Kamala Harris is now calling for Twitter to suspend President Trump's account and effectively censor him from the platform.
Why Does Harris Want Twitter to Ban President Trump?
Yesterday night, Harris appeared on CNN for an interview. When Harris spoke about the president's tweets, she branded his language as "irresponsible."
The 2020 Democrat moreover alleged that Trump's words could potentially bring harm to the unnamed whistleblower and others.
In Harris' own words:
"Frankly, when you look at what he's been tweeting today, directed at the whistleblower, directed at so many people; I frankly, think that based on this and all we've seen him do before, including attacking members of Congress that frankly his Twitter account should be suspended."
She then went on to state that "mechanisms" are necessary in order to "make sure that [Trump's] words do not, in fact, harm anyone."
The Censorship of Conservatives
Banning an individual's account from social media is a form of censorship. Harris' claim that Twitter should suspend the president's account comes as many conservatives report experiences of censorship on social media platforms.
Harris is not the first leftist to call for the suspension of Trump's Twitter account. However, much to the chagrin of Democrats, Twitter has previously indicated that they will not ban the president from using their platform.
Since Harris' remarks on CNN, Trump has proceeded with tweeting about details regarding the aforementioned inquiry.
Some of the president's most recent tweets read as follows:
Why isn't Congressman Adam Schiff being brought up on charges for fraudulently making up a statement and reading it to Congress as if this statement, which was very dishonest and bad for me, was directly made by the President of the United States? This should never be allowed!

— Donald J. Trump (@realDonaldTrump) October 1, 2019
"The congratulatory phone call with the Ukrainian President was PERFECT, unless you heard Liddle' Adam Schiff's fraudulently made up version of the call. This is just another Fake News Media, together with their partner, the Democrat Party, HOAX!

— Donald J. Trump (@realDonaldTrump) October 1, 2019
So if the so-called "Whistleblower" has all second hand information, and almost everything he has said about my "perfect" call with the Ukrainian President is wrong (much to the embarrassment of Pelosi & Schiff), why aren't we entitled to interview & learn everything about….

— Donald J. Trump (@realDonaldTrump) October 1, 2019
….the Whistleblower, and also the person who gave all of the false information to him. This is simply about a phone conversation that could not have been nicer, warmer, or better. No pressure at all (as confirmed by Ukrainian Pres.). It is just another Democrat Hoax!

— Donald J. Trump (@realDonaldTrump) October 1, 2019
Thus far, Trump has not responded to Harris calling for the suspension of his Twitter account.