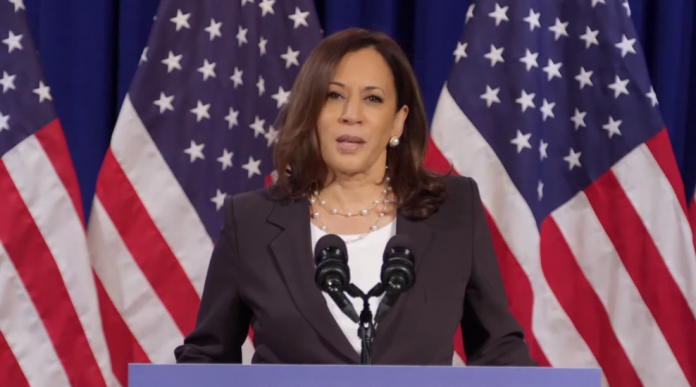 Joe Biden's running mate, Kamala Harris hits the campaign trail and visited the battleground state of Wisconsion, less than two months before the election on November 3.
During her first campaign trip in Wisconsin, Harris privately met with the family of Jakob Blake, the African-American man shot seven times in the back by Kenosha police. 
Harris told reporters she met with Blake's family to let them know they have the support and to express her concern for their wellbeing. She spoke with Jacob Blake himself over the phone while meeting with his father, sisters, and members of his legal team. 
"I mean, they're an incredible family," said Harris. "And what they've endured and they just do it with such dignity and grace, and you know. They're carrying the weight of a lot of voices on their shoulders."
Blake's attorney, Ben Crump, said that the meeting with Harris was inspirational and that she encouraged each family member to seek professional help in regards to their trauma and mental health. President Trump visited Wisconsin last week said but he did not meet with the Blake family because they wanted their legal team present and he felt that was inappropriate. 
Harris told the Blake family that if she and presidential hopeful Joe Biden were elected, they would fight to implement the Justice in Policing Act and bias training in order to suppress systemic racism. 
Harris met with local union workers
Harris also met with the International Brotherhood of Electrical Workers (IBEW) and then traveled to Wauwatosa to meet with local union workers. She also planned to meet with local Black business owners and leaders. 
In a statement, IBEW Local 494 Business Manager Dean A. Warsh said, "Joe Biden and Kamala Harris have been longtime proponents of organized labor. Kamala saw firsthand how the state-of-the-art training center provides a no-cost education to the region's men and women who want to become electrical workers."
"Joe Biden and Kamala Harris have a long record of standing up for union members, and we believe it's in the best interest of IBEW members to elect Joe president. Joe Biden and Kamala Harris are the best choice for the IBEW, because they have taken the time to listen to what our members have to say about the biggest challenges facing our country. Under the Biden-Harris ticket, IBEW members will always have a seat at the table in a Biden administration," added Warsh.
Historically, Wisconsin is a vital stop on any campaign trail because of its longstanding history of being a swing state. While Kamala was in Milwaukee, Mike Pence was campaigning a few hours away in La Crosse. Pence said inappropriate use of violence from police officers will always be investigated, but these uses of power do not warrant violent riots and protests the country has endured since May.
"It must stop and stop now," said Pence.
In 2016, Trump narrowly won Wisconsin, which propelled him into the White House. Both campaigns know that winning the White House means winning Wisconsin and other key swing states like Florida, which suffered immensely from COVID-19, and Pennsylvania, which is home to major labor unions and business leaders. 
————————————————–
Have a story you want USA Herald to cover? Submit a tip here and if we think it's newsworthy, we'll follow up on it.
Want guaranteed coverage? We also offer contract journalism here.  Just be sure you're comfortable giving up editorial control because our journalists are dogged and will follow the story through to the conclusion. The story will be published to our exacting standards, without regard for your preferred slant.
Want to contribute a story? We also accept article submissions — check out our writer's guidelines here.