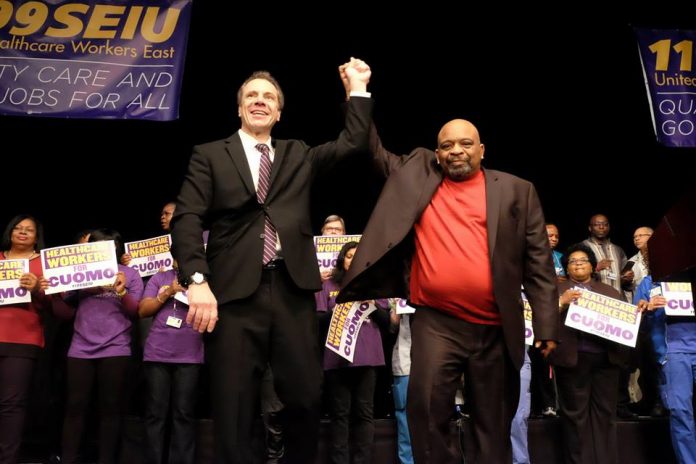 New York Governor Andrew Cuomo received a significant support for his re-election bid from the country's largest healthcare union.
The 1199SEIU United Healthcare Workers East endorsed Gov. Cuomo at the Madison Square Garden on Wednesday. The healthcare union has more than 400,000 members across Florida, New York, New Jersey, Massachusetts, and Washington D.C.
In a statement, the healthcare union noted Gov. Cuomo's leadership in protecting working class families.
George Gresham, the president of 1199SEIU, said, New Yorkers need elected leaders willing to fight to improve conditions for working families, and Governor Cuomo has done just that.
According to Gresham, the Trump administration declared war on worker protections. It is cutting healthcare coverage and attacking collective bargaining.  Amid all of these attacks, the New York governor "has been a true advocate for healthcare workers."
Gresham noted that Gov. Cuomo has been fighting with them to increase the minimum wage. He has been standing with them to secure higher wages for homecare workers and Paid Family Leave.
Additionally, Gresham said Gov. Cuomo "has been on the frontlines with the working men and women of 1199SEIU. We are proud to endorse him for re-election."
Gov. Cuomo implemented economic justice programs
On the other hand, the New York governor said he is humbled by the support of the healthcare union.
Gov. Cuomo said people are concerned that no one is looking out for them. They are seeing what's going on in Washington. They observed that Republicans prioritized giving tax cuts to hedge fund managers at the expense of the working class.
"We're here to send them a message: We hear you. All New York hears you. And alongside 1199, we have beaten the odds on issue after issue and delivered tremendous results for New York's working class."
Last month, Gov. Cuomo announced economic justice programs including minimum wage hikes, tax cut, and paid family leave policy.
In 2016, he signed into law a legislation authorizing a $15 per hour minimum wage across New York. This year, the state government implemented its new paid family leave policy. More than six million middle-class taxpayers will benefit from the state's lower tax rates this year.