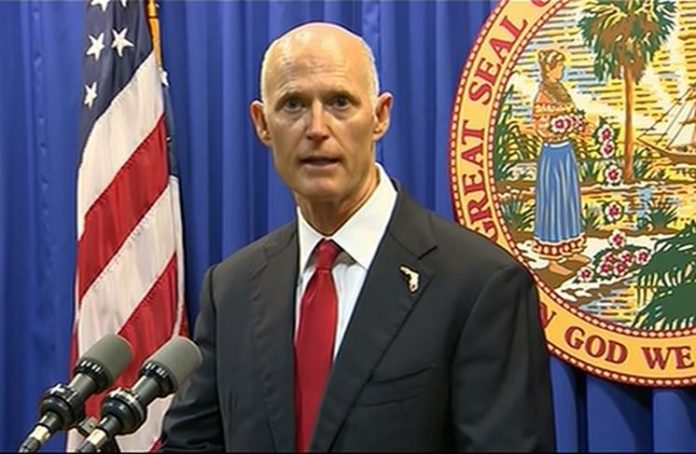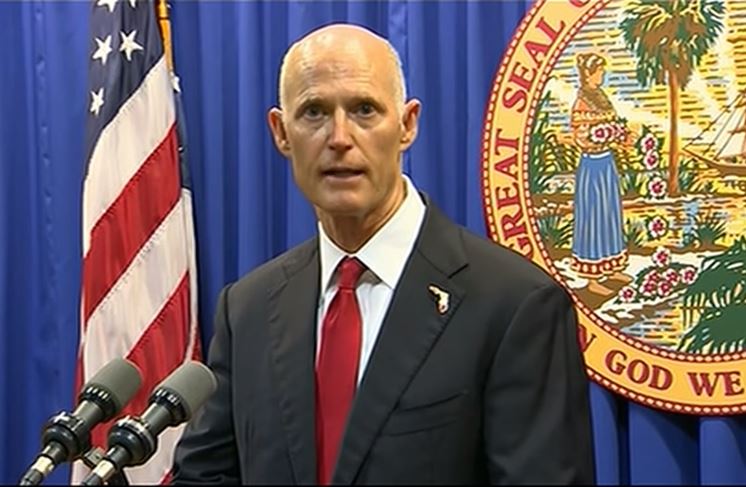 Florida Governor Rick Scott announced a sweeping plan to prevent gun violence after the horrific school shooting on February 14.  The shooter at Marjory Stoneman Douglas High School in Parkland killed 17 students and staff.
On Friday, Gov. Scott proposed new gun laws and programs for school safety and mental health. The Florida governor wants to raise the age limit to buy or possess a gun and to prohibit bump stocks. He also wants to prohibit violent individuals or mentally-ill people from purchasing or possessing any firearm or any other weapon.
Political observers view the governor's proposal as a show of defiance to the National Rifle Association (NRA), which rejects raising the age requirement to buy a gun. The NRA has 300,000 members in Florida. Gov. Scott is a member of the organization. He did not consult the powerful gun lobbyist about his proposals.
Gov. Scott: There's nothing more important than the safety of our children
In his remarks, Gov. Scott said, "This is a time when I believe we must all come together, and even cross party lines. Of course, we won't all agree on every issue, but I do believe this is a moment when our state can come together around a common sense set of actions."
According to him, they are elected to represent the best interest of Floridians. It is important for them to do everything in their power to "make sure that a horrific and evil act like the Parkland shooting never happens again."
"I'm an NRA member, a supporter of the 2nd amendment, and the 1st amendment, and the entire bill of rights for that matter. I'm also a father, and a grandfather, and a Governor. We all have a difficult task in front of us… balancing our individual rights with our obvious need for public safety," said Gov. Scott.
The Florida governor stressed that an open dialogue is important to achieve their goal of preventing gun violence. He added that they need to be decisive and swift when it comes to protecting kids and schools.
Gov. Scott said, "Let me be clear– there is nothing more important than the safety of our children. Our kids deserve nothing less. Fortunately, our economy is booming, and we have the resources to protect our schools and our students."
Gov. Scott's proposals on gun laws, school safety, and mental health
The governor wants to make it impossible for any individual with mental problems to use a gun. He proposed the creation of a new program called Violent Threat Restraining Order.  The program will allow a court to prohibit a violent or mentally ill person from purchasing or owning a gun or any other weapon.
Gov. Scott wants to strengthen the restrictions on gun purchase and ownership for mentally ill individuals under the Baker Act.
Additionally, the governor wants to require all individuals purchasing guns to be 21 or older. However, there will be exceptions for active duty and reserve military and spouses, National Guard members, and law enforcement.
Furthermore, Gov. Scott proposed a complete ban on bump stocks. He wants to prohibit people from owning or possessing a gun if they are subject to injunction for protections against the following:
dating violence
domestic violence
sexual violence
repeat violence
stalking/cyberstalking
For school safety, the governor is requesting a $450 million budget. He is calling for a mandatory law enforcement officer for every school. The governor is proposing one law enforcement officer for every 1,000 students. He rejects arming teachers with guns to protect school children.
In addition, Gov. Scott wants to require mandatory active shooter training for all public schools. He also proposed funding for "school hardening measures" such metal detectors, steel doors, bullet glass, and upgraded locks.
Gov. Scott will also establish a new, anonymous K-12 "See Something, Say Something" hotline, website, and mobile app.
For mental health program, he is requesting $50 million funding. The governor wants to expand mental health teams to serve youth and adults with early and serious mental illness statewide.  He wants to require every sheriff office to have a DCF case manager. He wants to provide law enforcement and mental health coordination matching grants.
"Keeping guns away from dangerous people and people with mental issues is what we need to do. It's common sense, and it is in their own best interest, not to mention the interests of our communities," said Gov. Scott.