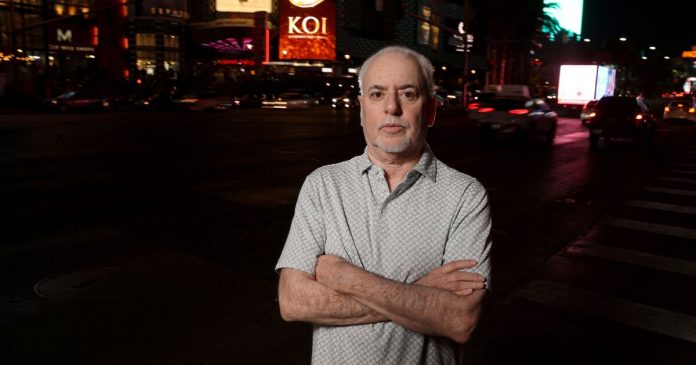 The arrest of Robert "Rob" Telles, a Clark County Administrator, shocked many in the Las Vegas area. Las Vegas police arrested the 45-year-old on Wednesday for the murder of a veteran investigative reporter.
In a Thursday news conference Sheriff, Joe Lombardo confirmed the arrest of the local politician. He said that the SWAT team was called in after Telles barricaded himself in his home. 
Officers had served a search warrant and confiscated his vehicles during the investigation into the murder of Las Vegas Review-Journal reporter Jeff German.
Authorities say the investigation is still ongoing. But they acknowledge that Telles' DNA was found at the scene of the stabbing.
Surveillance video footage showed a suspect wearing an orange jacket, straw hat, and sneakers. The suspect was spotted on September 2nd near where German was killed.
Through a search warrant, Las Vegas police found a straw hat and sneaker that matched those seen in the video of the suspect.
Las Vegas Police Captain Dori Koren said that the hat had been cut into pieces. And the shoe was bloodstained and partially cut up. Police believe Telles was attempting to destroy evidence of the crime.
"This a terrible and jarring homicide," Lombardo said during the news conference. "One that has deeply impacted Las Vegas. Every murder is tragic, but the killing of a journalist is particularly troublesome."
Las Vegas Police arrest Clark County Administrator
Telles is an attorney who practiced probate and estate law. He won the election as County Administrator in 2018 when he replaced a three-term public administrator. And he lost his June party primary to Assistant Public Administrator Rita Reid. His term is set to expire December 31st.
Prosecutors believe he murdered German because he was angry at the reporting which he believed caused him to lose the Democratic primary in his reelection campaign.
Telles will be held without bail. 
Jeff German veteran reporter
Veteran newspaper reporter Jeff German's body was discovered on Saturday morning outside his Las Vegas home. 
It was determined he died last Friday. The Clark County coroner ruled the death a homicide and determined the cause of death as "multiple sharp force injuries." German had 7 stab wounds, as well as defensive wounds on his arms and hands. Prosecutors are saying he likely fought for his life. 
German had been with the Review-Journal since 2010. Previously he worked for over 20 years at the Las Vegas Sun. The reporter covered the courts, politics, and organized crime.
He was known for stories about government graft and scandals in politics. 
He also did extensive coverage of the 2017 mass shooting where 60 people were killed and 400 others were wounded.
Review-Journal Statement
Executive editor, Glenn Cook, said in a press release that "the arrest of Robert Telles is at once an enormous relief and an outrage for the Review-Journal newsroom."
"We are relieved Robert Telles is in custody and outraged that a colleague appears to have been killed for reporting on an elected official."
"Journalists can't do the important work our communities require if they are afraid a presentation of facts could lead to violent retribution."
"We thank Las Vegas police for their urgency and hard work and for immediately recognizing the terrible significance of Jeff's killing," Cook added.