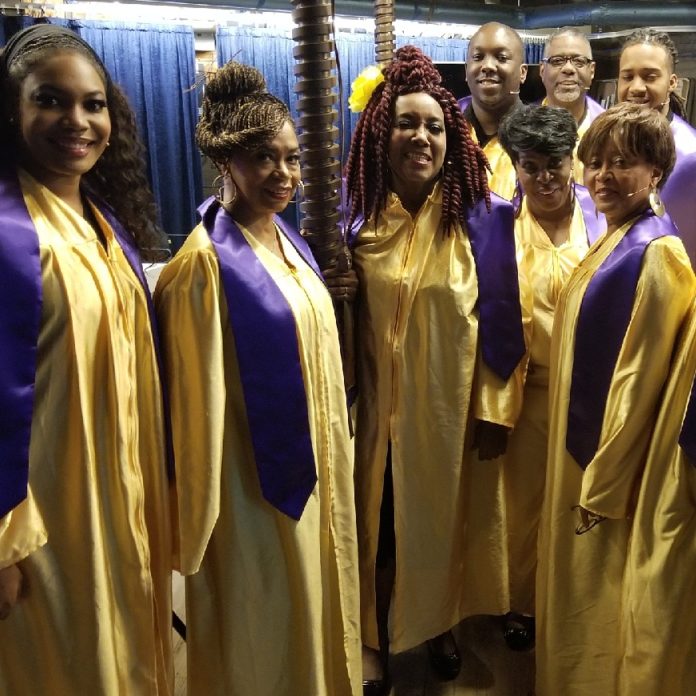 New York, NY – Great things are happening for Lady Peachena & the Late Show's Gospel Choir! On July 11, 2017, garbed in bright yellow robes and purple sashes, they sang a melodious tribute to the First Lady of Gospel, Rev. Shirley Caesar, singing a medley of some of her biggest hits at the Recording Academy's Second Annual "GRAMMY Salute to Music Legends 2017" that was held at the Beacon Theater in New York, NY.
Twelve-time Grammy winner & Gospel music genius, Kirk Franklin, arranged this seven-minute musical salute to Shirley Caesar, and directed the Late Show's Gospel Choir, which was the inspirational highlight of this spectacular concert. Gospel singer, Le'Andria Johnson, rocked the house with her fiery rendition of "Satan, We're Going to Tear Your Kingdom Down," and Shirley wailed away on "Jesus, I Love Calling Your Name" to thunderous applause.
"Working with Kirk Franklin & Shirley Caesar at the same time on the same stage was a double treat," admitted Lady Peachena.
"I had to keep pinching myself!"
After her soulful performance, the Recording Academy honored Shirley Caesar, one of a few living pioneers of Gospel music and an eleven-time Grammy Award winner, with a timely GRAMMY Lifetime Achievement Award. The appreciative, diverse crowd gave her a standing ovation, too. Other recipients of The Recording Academy's 2017 Special Merit Award were jazz pianist, Ahmad Jamal, Sly Stone (of the Family Stone), the late Nina Simone, Charley Pride, and rock group, Velvet Underground. Tom Bell, one of the anchors of the popular Philadelphia Sound was honored with a Trustees Award as well as a song tribute "Then Came You" from singing icon, Dionne Warwick.
The "GRAMMY Salute to Music Legends 2017" Concert also featured performances by GRAMMY winners: Randy Newman, Charley Pride, Dwight Joakim, & Velvet Underground. GRAMMY nominees Charlie Wilson & Valerie Simpson & Living Colour founder/guitarist, Vernon Reid, performed together in a nostalgic salute to Sly Stone (who was absent) singing a highly energetic medley of his biggest hits. "Rise Up" singer, Andra Day, sang a jazzy tribute to Nina Simone. Jazz pianist, Stanley Cowell, Neal McCoy, Russell Thompkins, Jr. of the Stylistics, and Catherine Russell performed on the show, too. GRAMMY winner & star of popular daytime TV Show, "The View," Whoopi Goldberg, made a special appearance to accept the Lifetime Achievement Award on behalf of Nina Simone.
Former MD of CBS TV'S
"LATE SHOW"
& Grammy Award winner,
Paul Shaffer,
was the Musical Director of this highly-entertaining concert which was filmed for PBS TV
–
WNET. For
Paul
and
The Late Show's Gospel Choir,
this fantastic show was a joyful reunion for they started working together on CBS TV'S
"LATE SHOW"
twenty-two years ago, October, '95. The LSG Choir's new Gospel CD is now available at:
www.cdbaby.com/cd/ladypchoir7
The
"GRAMMY Salute to Music Legends 2017"
will be broadcast as part of PBS TV'S
"GREAT PERFORMANCES'
series on Friday, October 13, 2017, at 9 p.m. EST. Don't miss it! For bookings of
The Late Show's Gospel Choir,
visit their website at:
www.LateShowsGospelChoir.com
.
This show was a production of THIRTEEN Productions, LLC., for WNET, and was written by
David Wild
, directed for television by
David
Horn,
with
Mitch Owgang
as producer. Executive producers were
David Horn
&
Neil Portnow
. For more info about the show visit:
www.grammy.org/recording-academy/awards
.