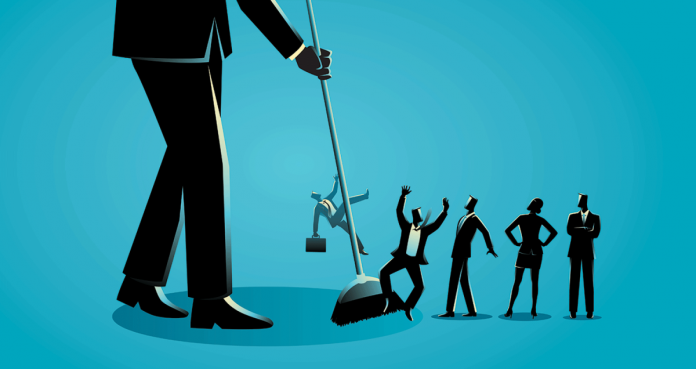 American Airlines, Nike, several casinos along the Las Vegas Strip, LinkedIn, numerous retailers, Bridgewater and Schlumberger all have one thing in common. All have announced upcoming layoffs, and they're not the only ones cutting jobs. The list of businesses that are laying workers off is growing rapidly as the pandemic continues to take its toll.
The Paycheck Protection Program stemmed the tide of layoffs, but only temporarily. The sweeping wave of job cuts is about to come roaring back now that most businesses have used up the funds. Here are some of the major companies that have announced layoffs over the last month or so.
Casinos
Several Las Vegas casinos are the newest additions to the list of companies that have announced layoffs. MGM notified a "large majority" of employees in its entertainment and sports divisions that they will lose their jobs effective Aug. 31. The company hopes to rehire the workers, who had been furloughed already.
Wynn Resorts, Circus Circus and Penn National Gaming have also announced job cuts and furloughs.
Travel
The travel industry has been especially hit hard by the coronavirus pandemic. As part of their bailout package, airlines have been required to keep employees on the payroll until Oct. 1. However, several airlines have announced layoffs that will start when the protected period under the bailout package ends.
American Airlines has said it will have to lay off as many as 25,000 workers or nearly 20% of its workforce after Oct. 1. United Airlines is following suit with up to 36,000 job cuts due to the coronavirus pandemic. Southwest Airlines is going a different route by offering extended leave and exit packages to its employees. Nearly 30% of its workforce had taken the deals as of July 20.
Contractors that do business on their airplanes have already been laying off workers. In fact, many companies laid off employees and then took bailout funds from the Paycheck Protection Program, prompting questions about what they're doing with all those funds, which are based on last year's payroll, after they have already let workers go.
In addition to airlines and their contractors, ride-sharing giants Uber and Lyft and hotel chains Hilton and Marriott have announced furloughs.
Retailers
Numerous retailers have also been hit hard by the coronavirus pandemic with many being forced to close their stores temporarily. However, many of those temporary closures are becoming permanent.
For example, J.C. Penney filed for bankruptcy in May and announced it will permanently close 152 stores and cut 1,000 positions in corporate and field management. Tailored Brands, which owns Jos. A. Bank and Men's Wearhouse, plans to cut 20% of its workforce and close 500 stores.
Tommy Hilfiger and Calvin Klein owner PVH Corp is eliminating 450 jobs and closing 162 stores. Blue jeans brand Levi's is cutting 700 jobs or about 15% of its global workforce. Macy's is also cutting jobs, eliminating about 3,900 corporate employees after furloughing most of its workforce earlier this year.
Nike also announced job cuts, although it isn't saying how many jobs it will eliminate. The company said it's actually not a cost-cutting move, however. Instead, the sportswear brand claims the move is aimed at investing resources in stronger parts of its business.
Drug store chain Walgreens is slashing 4,000 jobs in response to the loss it posted in its third fiscal quarter.
Other layoffs
HSBC is slashing 15% of its global workforce or about 35,000 jobs. Additionally, Reuters announced that Goldman Sachs has revamped its employee review process, opening the door to even more job cuts. Bloomberg Law also reported that Wells Fargo is getting ready to eliminate thousands of jobs.
Defense contractor and airplane manufacturer Boeing is laying off almost 7,000 workers. Social network LinkedIn plans to cut 6% of its workforce of 960 jobs, all in hiring and sales.
Tumbling oil prices have also resulted in job cuts. Schlumberger announced plans to eliminate about 21,000 jobs, while Chevron plans to cut between 10% and 15% of its workforce, which employs 45,000 people globally.
These aren't the only layoffs that have been announced in recent months, and the list is growing by the day. More and more companies are likely to cut jobs unless more funds from the Paycheck Protection Program are forthcoming. Congress is expected to add additional funding for the program in the next stimulus package.