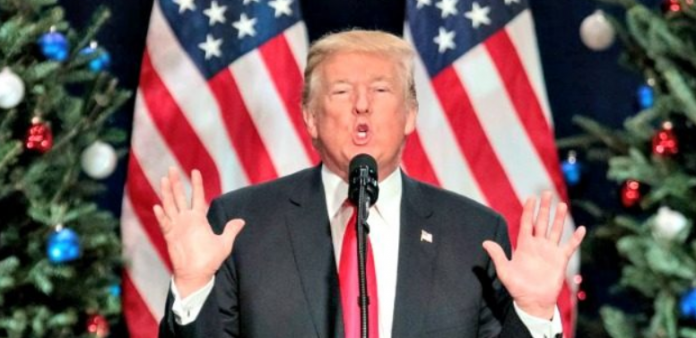 President Trump has faced criticism from progressives and liberals following his "Merry Christmas" story, as reported by Breitbart News.
President Trump, Merry Christmas, and Backlash from Critics
The President spoke at the White House on November 30, paying tribute to the upcoming Christmas holiday, and telling the Christmas story. He also posted a link to the speech on his Twitter account:
The Christmas Story begins 2,000 years ago with a mother, a father, their baby son and the most extraordinary gift of all—the gift of God's love for all of humanity.

Whatever our beliefs, we know that the birth of Jesus Christ and the story of his life… pic.twitter.com/P94C3LjWlx

— Donald J. Trump (@realDonaldTrump) December 1, 2017
However, many arguably leftist media outlets did not care for President Trump's acknowledgement of Christmas. Petula Dvorak, a columnist for the Washington Post slammed the President for his speech:
"But they're saying it was President Trump who brought "Merry Christmas" back to the White House," she wrote. "Or at least that's the story being peddled by Fox News, a handful of conservative bloggers and the White House itself."
Dvorak also targeted the First Lady for the White House Christmas decorations:
"The unveiling of first lady Melania Trump's Christmas decorations this week — including an oddly stark and ominous hallway of bare, shadowy branches that launched a thousand memes — was hailed as some kind of victory for tradition. As though the Obamas did away with every scrap of Christmas cheer for the past eight years and ate tofurky under a Festivus tree. In kente cloth."
Dvorak furthermore slammed conservatives who alleged that prior to President Trump, a war on Christmas existed. Then, she went after President Trump again. According to Dvorak, the President is waging a war on Jewish people and Muslims. However, she did not cite factual evidence to support her claims.
What Does America Think About President Trump's Recognition of Christmas?
Many Americans have taken to social media to laud President Trump for his tribute to the Christmas story:
Thank you President Trump for giving us Hope ?& for Making #Christmas Great Again !
God Bless you [email protected]

♥️, The Deplorables #SaturdayMorning #SundayThoughts #ChristmasDay #MondayMotivation pic.twitter.com/rXgIeOtz85

— Girl♥️Bot (@eissolomon11) December 2, 2017
Christmas WILL be special this year THANKYOU MR PRESIDENT #TRUMP AND #GOP.!! pic.twitter.com/xyXvWMbdAy

— TEXASGrammaw2 (@pamelanorwoodw2) December 2, 2017
President Trump has yet to respond to Dvorak or other critics who remain displeased with his acknowledgement of Christmas.